Welcome to Best Star Wars Gift Ideas: The ultimate guide for the die-hard Star Wars fan.
Don't miss my personal favorites, the Death Star ice molds and the surprising gift idea of the year – the Han In Carbonite shower curtain.
As this list proves, there's nothing globe-shaped that can't become a Death Star; nothing flat and circular that can't become a Millennium Falcon; and nearly everything else in existence can be divvied up between R2-D2 and Yoda when it comes to merchandising.
We've avoided the obvious toys and T-shirts. We've definitely tracked down a few more bizarre items too. So, what are you waiting for? Get browsing. And may be the purchasing Force be with you.
R2-D2 Pizza Cutter
Bored of slicing your quattro formaggi with a revolving Enterprise, which has been the default sci-fi pizza partitioner for years now? Buy yourself an R2-D2 pizza cutter and cut through that crust like a lightsaber through Sith Lords.
Death Star Beach Ball
Of course, after The Force Awakens is released all Star Wars-related beach balls will be BB8-themed. But for some classic Empire-style planet-destroying action on the beach this summer, this Death Star beach ball is fully operational.
Folding Chair
When you're on the beach, between bouts of of playing with your Death Star beach ball why not relax in this Clone Trooper folding chair? Buy a few and it'll look like you've cloned them.
Colour-Changing LED Millennium Falcon
Luke may have called Han's ship a piece of junk, but even he would gone, "Aw, pretty!" if he'd seen this colour-changing LED Millennium Falcon. Designed to go on your wall, it can glow 16 colours, which you can customise to suit your
mood/lifestyle/colour scheme/Force aura or whatever.
Han Solo Bottle Opener
Han may be frozen in carbonite but that's no reason he can't be put to good use. Say, as a Han Solo bottle opener, for example.
Rebel Backpack
One of those wonderfully subtle bits of Star Wars merchandise that just looks like a really cool – and practical – backpack to people who aren't into sci-fi. But those in the know will recognise the colour scheme and the the badge – this is a Rebel Alliance backpack. You can be a stealth geek!
Star Wars Gifts: Chess Set
Not, sadly, a working version of the 3D chess in A New Hope but a darned fine alternative – Star Wars Chess Set. Great star wars gift idea for the smarter fan. Just remember (altogether now): "Let the Wookiee win."
Dog's Bantha Costume
We're entering pets' corner now for a while with a few gifts from a galaxy far, far away for your four-legged friends. If your pooch has absolutely no self-esteem at all, buy them a Bantha fancy dress costume. Rover may never be able to show his face to his canine mates again, but your mates will love it.
Darth Dog Bowl
On the other hand, your best furry friend will love you for buying them this stylish dog bowl. Will Darth turn them to the bark side?
Cat Teaser
Cats need not feel left out. Stop them terrorising sparrows by wearing them out terrorising a plush
Millennium Falcon cat teaser instead. Falcons are clearly more braggable about than sparrows, anyway.
Stormtrooper Hooded Jacket
There is a galaxy of Star Wars-branded attire out there (not very far away, just in the local supermarket) and as we said in the intro, we're not going to highlight any of the zillions of T-shirts (comedy or otherwise) you can get because that's a whole feature in itself. But we are going to bring to your attention some of the more unusual and stylish pieces of clothing, including this striking Stormtrooper hooded jacket. Zip it right up for the total look.
Chewbacca Slippers
Leia may have called Chewbacca a walking carpet but she never realised that one day she would be able to walk in Wookiee carpet slippers. This is a great star wars gift idea for her as well.
Princess Leia Beanie
Now you can have buns just like Princess Leia! Stop sniggering. We mean her hair buns of course, thanks to this Princess Leia beanie.
R2-D2 Beanie Hat
Alternatively, if you fancy something a bit more stitchpunk on your bonce there's this R2-D2 woolly hat that comes in a variety of sizes from baby droid to old-enough-to-know-better droid.
Star Wars Duck Tape
This has to rate as one of least predictable bits of Star Wars merchandise we found. There's another George Lucas film that would seem a more obvious fit (Howard The Duck Tape, anyone?) but hey, we're happy to wrap things up with the Star Wars duck tape. Especially gungans.
Millennium Falcon Guitar Pick
Pretend you're Brian May by playing the Imperial March atop Naboo's Theed Royal Palace while strumming your axe with a Millennium Falcon guitar pick. Nice low cost Star Wars gift idea.
Giant Poster
Big is beautiful, so spruce up your living room/man cave/study/studio with this eight-piece giant poster. Its full size is 168 x 59.4cm/66 x 23.4 inches and it's printed on high quality 250gms thick Satin paper. As it says on the instructions with any droid you buy from Ikea – some assembly required.
Lightsaber Dive Sticks
These are lightsaber dive sticks. No we didn't know what a dive stick was either. But they light up underwater. You lob them into pools then encourage Younglings to dive for them and learn to swim. Hopefully.
Millennium Falcon Cutting Board
Perfect for when you're preparing gungans and dianoga for that seafood stew – the Millennium Falcon cutting board.
Star Wars Pancake Molds
If you buy these Star Wars pancake molds then get a whole of you together to cook and flip the pancakes at the same time, you can recreate dogfight scenes from the film in batter.
Star Wars Gift Ideas: Umbrella
If you've got a business trip to Dagobah or Kamino you're going to need this Star Wars brolly.
Apron and Mittens
This is the perfect Star Wars gift idea for father's day. For all budding Darth Bakers out there, shield yorself against stains and scolding with the ultimate in Sith kitchen armour – Darth Vader apron and oven mitts.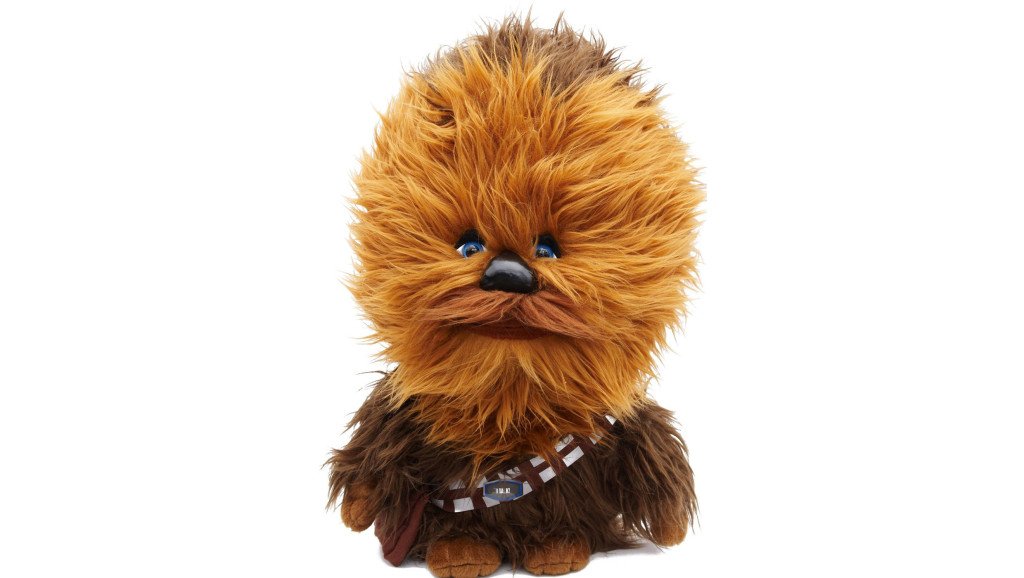 Talking Chewbacca plush
How cute? This blow-dried baby talking Chewie bears more than a passing resemblance to Fizzgig from The Dark Crystal. Also you have to remember that talking for Chewie means roaring and growling – he doesn't suddenly adopt the voice of Stephen Fry and regale you with anecdotes about the old days on Kashyyyk.
Star Wars Headphones
These top quality, stylish headphones with some subtle Star Wars logo-adornments are prefect for listening to some banging sounds. Or to drown out the banging sounds if you're stuck on the Millennium Falcon at night with Han and Leia. The Star Wars headphones are available in Rebel Alliance, Boba Fett and Galactic editions.
WTF? Wampa rug
Now this is what you need in front of the fire! A genuine wampa-hide rug. Enslaved Leia not included.


Death Star juggling balls
Juggling life as the Lord Of The Sith and a film trailer voiceover artist left Vader with very little downtime to relax. In those few brief moments he did have to himself he liked nothing better than playing with his balls. And now you can too with these Death Star juggling balls just like the ones Vader used. Probably. Juggling miniature versions of planet-destroying space hardware is something that should be on everybody's bucket list, and at seven quid for three balls, it's considerably cheaper the white-water kayaking in Borneo or whatever.


Leia & Han towels
The one on the right is clearly a Han towel. Geddit? Han towel? Oh, never mind. 'His and Hers' towels are usually a concept of cringable tweeness but the addition of a classic moment from The Empire Strikes Back makes this pair a fun thing to have in your bathroom (as long as you're being tongue-in-cheek about it).


Princess Leia Art Nouveau towel
Not sure why anybody would have the idea of creating a Princess Leia poster in the art nouveau-style of Alfonse Mucha and then sticking it on a beach towel but I'm quite pleased they did.
R2-D2 projecting clock
"Help me, Obi-Wan, it's nearly bed time." Clearly riffing off the idea that R2 can project holographic messages, this clock has the little guy projecting the time onto handy nearby surfaces.
Death Star ice molds
Although Borg ships are obviously better-equipped for assimilation into ice cubes, if you fancy something more spherical in your apéritif then Death Star ice molds are what you need. From all this long list of original gift ideas for the Star Wars fan, these Death Star ice molds are my personal favorite.
Star Wars Barbecue Tongs
Just what a budding Jedi needs when the Empire decides to barbecue your Aunt and Uncle – lightsaber BBQ tongs.
X-Wing knife block
Awesome. Whoever thought up the idea of basing a knife block on an X-Wing deserves some kind of design award. Now we all await the Star Destroyer cheese grater and the TIE Fighter food mixer.
Star Wars bar stools
Turn your breakfast bar into the Mos Eisley cantina with the help of these Star Wars stools. Not that they actually had these stools in the Mos Eisley cantina because that would have been weird and meta.

Lightsaber chopsticks
Something is stir-frying in the Force. Darth Vader won't find your lack of cutlery disturbing when he releases that you have converted his old lightsabers into chopsticks.
Star Wars Gift Ideas: Mini metal spaceships
The Professor Puzzle range features a number of brilliantly detailed little metal models of various Star Wars vehicles that you get to build yourself, including an X-Wing, an AT-AT, a TIE Fighter and the Millennium Falcon.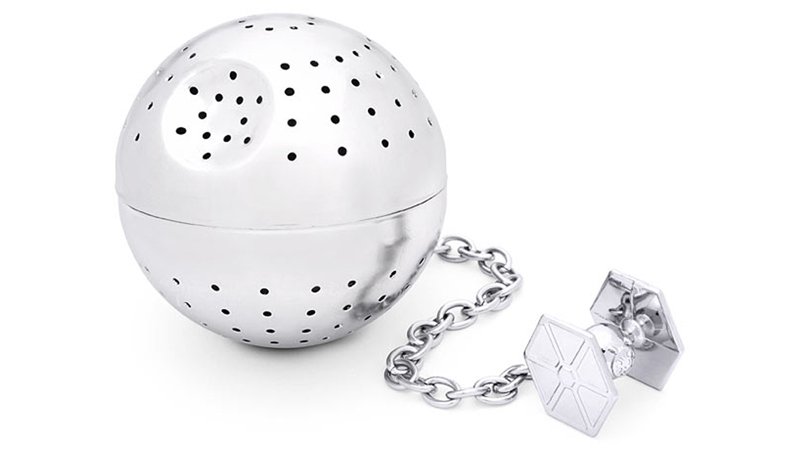 Death Star tea infuser
If you think tea bags are a little uncouth and you prefer cup of Lapsang, Oolong (both of which could easily be planets in Star Wars) or Darth Jeeling, then what you need to create the prefect brew is a Death Star tea infuser. The perfect winter holidays gift idea for a Star Wars fan.
Han In Carbonite shower curtain
Creepy or cool? I cannot make up my mind. But it's certainly unique. Now you can have Han Solo watching you as you soap your privates thanks this Han In Carbonite shower curtain. Janet Leigh may have survived Psycho if she'd had one of these to scare off Norman Bates.
Death Star rug
That's no moon that's a… gag I've used already. This time it's a Death Star rug the perfect floor covering if you live in a light house. If you don't, it's still a great talking piece.
Lightsaber wall-light
Remember when we were kids and we'd look up at the tube lighting on the ceiling and think how it'd make a really cool lightsaber? You know, if it didn't heat up so much and had to be connected to the mains? Decades later and we've come full circle with lightsabers now being used as actual lights. Which makes sense if you buy the Luke Skywalker one. If, however, you buy the Darth Vader one, won't that make your room look a little on the dark side?
R2-D2 pop-up storage bin
This is not just a bin, it's a pop-up bin that you can fold away when not in use. So it's a bin that you can compact. Not to be confused with a trash compactor, which is bigger, wetter, smellier and so far unavailable in Argos.
Klutz Star Wars folded flyers
The paper aeroplane has evolved. Now you can fold your own Star Wars space ships. And they really fly, according to the blurb. Which would be a vast improvement on the nose-diving antics of 99% of paper aeroplanes ever made.
Lego Ewok Village
Finally, that one expensive item on the list, but if you do have $250 to spare there's nothing better to spend it on than a Lego Ewok village. And if you do buy it, let me know, because I really, really want to come round and help you build it.
More from Briff.me
Assuming that you're a real Star Wars fan, don't miss this exclusive post featuring Star Wars: Surprising Facts and Behind the Scenes Photos.
This list of the greatest Star Wars gift ideas was curated and edited with the help of Google. Some of these brilliant photographs are shared all around the social web. If you find your very own photo or simply want to add specific credit – sure! Simply drop us a line and we'll be happy to add the details. Special thanks for credit go to Games Radar (link) for editing an even longer list of ideas.
Here at Briff.me, knowing that our precious time together on Earth is waaay too short for a long feed, we bring you the best of the best, like this special briff about gift ideas for Star Wars fans. If you want to get more posts like this, click like on the Briff.me Facebook page.
Liked this Briff? Click a button to Share…