Star Wars: Behind The Scenes
In anticipation for Star Wars VII, I still find the original trilogy most exciting and it will forever be part of my own childhood and our general culture. I've edited this list of 33 photos from behind the scenes, each from a unique angle. And each excites me every time. Some are rare. There's a rare video with bloopers towards the end… And the last photo is my dream come true. Enjoy!
1. Mos Eisley
Star Wars Episode IV: A New Hope Shooting the first glimpse of Mos Eisley ("You'll never find a more wretched hive of scum and villainy.") in Tozeur, Tunisia. The production used porters and mules to carry equipment up a cliff, including a tea urn for the English crew members. By the time Anthony Daniels was fitted into his C-3P0 suit, it was tea-time and he spent the duration of the break locked inside his metal suit.
2. Cushing Smile
Star Wars Episode IV: A New Hope An off-duty Mark Hamill shares a laugh with Peter Cushing (Grand Moff Tarkin). Although they never share a scene together in the film, Hamill watched all of Cushing's scenes being shot, nabbing an autograph in between takes. "Cushing is the ultimate English gentleman," recalled Hamill. "So distinguished."
3. C3PO's Head
Star Wars Episode IV: A New Hope Fitting Anthony Daniels into the C-3P0 suit. On set Daniels had a director's chair with his name on the back but he never got to sit in it, resting on a leaning board instead. "On the first day of shooting, I had to say 'binary loadlifters' which I still can't say," says Daniels. "And we must have done quite a few takes before it occurred to me that it didn't matter what I said because my lips weren't moving."
4. Miniature Rebel Fleet
Star Wars Episode IV: A New Hope Visual effects supervisor John Dykstra lays out the miniature rebel fleet. "I wanted drag racers," Lucas says about X-wings, "with a long narrow front and a guy sitting at the back. Then Colin (Cantwell, concept designer) came up with the split wing thing."
5. Lucas and Greedo
Star Wars Episode IV: A New Hope While the bulk of the Cantina sequence was shot at Elstree, Lucas embellished it with inserts shot in Los Angeles in early 1977. In particular Lucas revamped the Solo-Greedo encounter, with actress Maria de Aragon donning Greedo's mask. "It was hot under the mask and I almost lost my life because I was out of breath," she recalls. "George Lucas noticed and made sure I got help. I had a very bad three or four minutes there."
6. George Lucas with a Gun
Star Wars Episode IV: A New Hope Shooting the Death Star swing took place on Wednesday April 28 1976. The set was built only 12 feet above the floor and extended by a matte painting. "After kissing Mark, George wanted me to say, 'For luck'," says Fisher, "which sounded obscene because the words blended into one another."
7. Guinness and Lucas
Star Wars Episode IV: A New Hope Lucas and Alec Guinness hurry up and wait in Tunisia. It was on this leg of the shoot that the director told the actor Obi-Wan was to be killed off. "Alec was a very, very brilliant man but he was also an actor and very emotional, very human," Lucas said at the time. "'You mean I get killed but I don't have a death scene?' he said." It took Lucas a long lunch back in London to explain why this was the right decision.
8. Lightsaber Rehersal
Star Wars Episode IV: A New Hope Dave Prowse and Alec Guinness rehearse the Darth-Obi-Wan lightsaber duel. The fight was shot before the meeting of their characters went before the camera and proved tricky. "Dave Prowse is such a heavy-handed man," said stunt coordinator Peter Diamond during the shoot, "every time they touched swords, the blades kept breaking."
9. Giant Model
Star Wars Episode IV: A New Hope Model maker Lorne Peterson checks the Jawa sandcrawler, pimped here for the 1997 Special Edition. This was shot on the roof of ILM with finely ground walnut shells for sand and carved foam for rocky outpourings. Petersen also created an ickle Jawa (around half an inch tall) to fit in the side hatch. "I doubt whether anyone can see him," says Petersen. "But he's there…"
10. They were not alone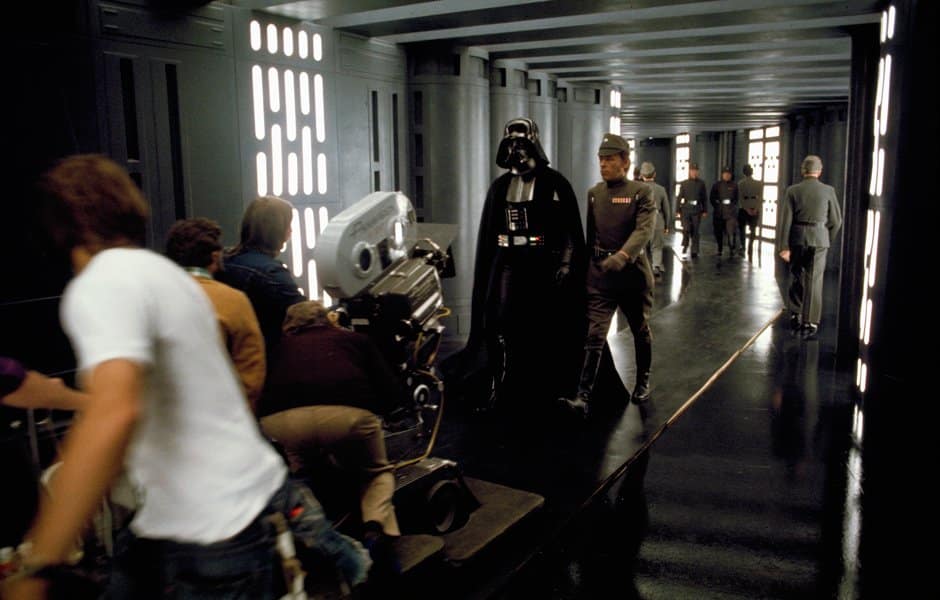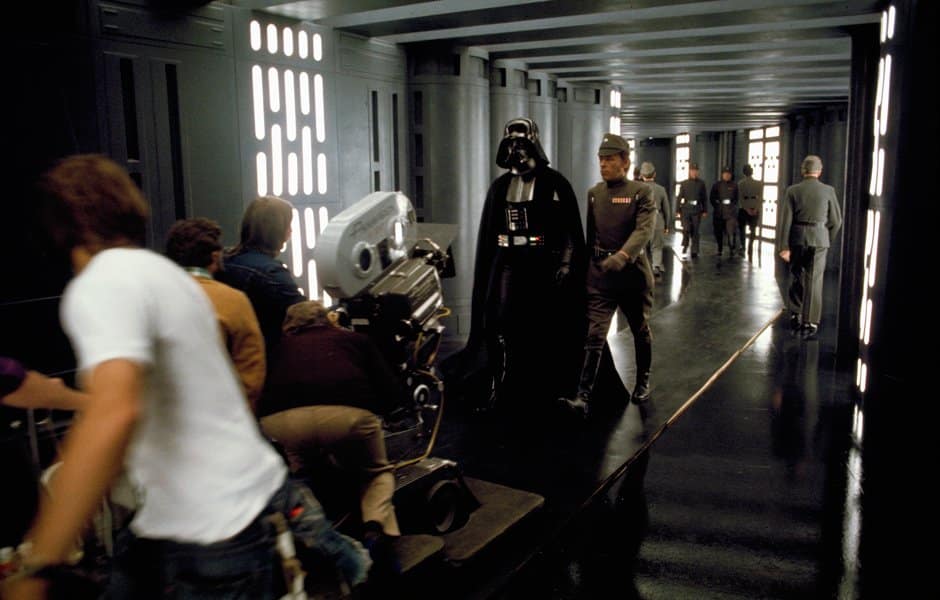 Star Wars Episode IV: A New Hope Darth Vader struts through the Death Star followed by Commander No.1 (Leslie Schofield) later renamed Chief Moradmin Bast in the Expanded Universe — much of Schofield's material was cut and ended up in ill-fated Star Wars Holiday Special.
11. Outside the Millennium Falcon
Star Wars Episode IV: A New Hope The Millennium Falcon approaches the Death Star. All the cockpit scenes were shot together in May/June 1976 whatever their position in the script. The shots initially caused lots of problems after ILM failed to deliver usable background plates (images of space) for front projection for the actors to react to.
12. Bombing the Death Star
Star Wars Episode IV: A New Hope The surface of the Death Star was blown up in the parking lot at ILM. Lucas envisioned the Death Star trench being around 40 miles long. The miniature trench ran for around 60ft and included 10,000 "windows" painted on by hand. "It was like being exiled to Siberia to be sent to work on the Death Star — and it was always there," says then ILMer (now director) Joe Johnston. "It took us months to build."
13. Love in the Air?
Star Wars Episode IV: A New Hope Harrison Ford (then 34) and Carrie Fisher (then 20) chat on the Death Star set. "I always knew that I couldn't get the girl," Ford is reported to have said during the shoot. "Han knows if he gets the girl, it will just be a one-night stand."
14. Herd of AT-ATs
Star Wars Episode V: The Empire Strikes Back A herd of miniature AT-ATs (less than two inches tall) used for shots looking through Luke's cockpit as he flies toward the walkers on the horizon. Only three full sized walkers were created. Each four-six second shot took around sic hours to shoot – i.e. one second an hour.
15. Choking Hazard
Star Wars Episode V: The Empire Strikes Back Dave Prowse playfully strangles director Irvin Kershner. Prowse was often in the dark about the true nature of the script after a Lucasfilm report showed he had the biggest blabbermouth – Harrison Ford had one leak, Carrie Fisher had one leak, Prowse had nine.
16. Chewbacca Revealed

\Star Wars Episode V: The Empire Strikes Back Peter Mayhew dons Chewbacca's mask before distracting the Imperial probe droid. The shoot took place in Norway's coldest winter in 100 years, with temperatures dropping to -29 C and the crew facing 18ft of snow.
17. The Real Kiss
Star Wars Episode V: The Empire Strikes Back Anthony Daniels as C-3P0 and Carrie Fisher look set for a clinch. "I think he's rather disconcerted throughout the film that he's not human," Daniels commented at the time. "He doesn't quite understand what kissing is because if there is one thing that a robot isn't into, it's kissing. There are times when he is suddenly pulled up short and I think that slightly upsets him."
18. I am Your Father
Star Wars Episode V: The Empire Strikes Back The Most Devastating Moment In Star Wars History took a week to shoot. With the script reading "Obi-Wan killed your father," it was Lucas who informed Hamill that Vader was Luke's father just before cameras rolled. As well as the emotional demands of the scene, Hamill had to back away from Vader along a nine-inch wide plank some 30ft above the ground with two wind machines blowing full blast.
19. Yoda and Oz
Star Wars Episode V: The Empire Strikes Back Frank Oz gets to grip with Yoda. Initially Mark Hamill had Yoda's dialogue relayed to him through an earpiece. "I would hear 'Luke, many years have you..' but if you turned your head the wrong way, you'd pick up Radio 1 and the Rolling Stones singing 'Fool to Cry'," recalled Hamill. Soon the earpiece was abandoned and Hamill would do the scene without Yoda's dialogue.
20. Were they aware it's history in the making?

Star Wars Episode V: The Empire Strikes Back The classic Empire behind the scenes shot of Hamill, Lucas, Fisher and Ford. Star Wars biographer Jonathan Rinzler has done exemplary detective work in identifying the people in the background — on the extreme right is assistant to the director Debbie Shaw, the daughter of actor Robert Shaw.
21. Huge Spaceship

Star Wars Episode V: The Empire Strikes Back Lucas lines up a shot with the medical frigate as VFX supervisor Richard Edlund looks on. The look of the ship was based on an outboard motor. The shot was revised once the film was in release: Lucas felt the spatial relationship between the frigate and the Millennium Falcon needed clarifying so created a trio of shots to connect the dots.
22. Larger AT-ATs
Star Wars Episode V: The Empire Strikes Back Phil Tippett and Jon Berg animate three AT-ATs — the ones in the backgrounds are cutouts. "I do recall a number of different ideas about what the Imperial snow walkers could have been," says Tippett. "At one point they were going to be remote controlled wheeled things and at other times they were going to be like tractor tanks. I think it was (then Effects DP) Dennis Muren who was instrumental in advising George to attempt to do something quasi-animalistic. The rationale was that the artifacts of stop-motion – a mechanical look – would still be okay."
23. Solo's Face…

Star Wars Episode V: The Empire Strikes Back Leia kisses Luke in the days before it was icky. This wasn't the only kiss shot for this scene. After Solo tells Skywalker, "You look strong enough to pull ears off a gundark," and Luke responds with, "Thank you", Harrison Ford kissed Hamill rather than say, "That's two you owe me junior" – the crew cracked up.
24. The Death Star
Star Wars Episode VI: Return Of The Jedi Lucas poses with the unfinished Death Star. Budgetary concerns initially saw the second space station conceived only as a matte painting to keep costs down but Lucas insisted the model be built in 3D. The edges of the superstructure were created from layered platelets of edged brass, as it was intricate enough to retain detail yet sturdy enough to withstand studio lights. Still the model was too fragile to travel on museum tours and has a prominent place in the Lucasfilm archive at Skywalker Ranch.
25. X Wing
Star Wars Episode VI: Return Of The Jedi Model maker Paul Huston works on a massive X-wing fighter for Jedi. The bigger-than-normal miniature was for a planned shot that would see the fighter approach the camera close enough to see Luke Skywalker's face, then soar away. The four feet model was something that ILMers Mike Fulmer and Ira Keeler had been working on in their spare time and included a motorised miniature pilot. Unfortunately, the shot was never used in the finished film.
26. Double Princess Leia
Star Wars Episode VI: Return Of The Jedi Carrie Fisher and her stunt double Tracey Eddon sunbathe on Jabba's sailbarge in the Arizona desert. "George always talked about a slave girl outfit," says costume designer Nilo Rodis-Jamero. "I actually struggled with that for a long time and all I kept coming up with was clunky Ben-Hur kind of stuff. And one day I happened to see a sculpture that I really liked and I thought my problem was solved. I did full-scale wax pieces of the costume, taking dimensions from Carrie Fisher. We tested it on her, it looked great and that was it."
27. Freezing Princess Leia

Carrie Fisher napping in the freezing cold of Hoth
28. R2D2 Eating Sandwich

This is how Kenny Baker had to eat every day.
29. Hot Princess Leia

Boiling hot Princess Leia was and still is the stuff the dreams of teenage boys are made of. This photo is the best example why.
30. Luke Could Have Jumped

Luke lost one hand and fear took over him looking down. Or, hmmm…
31. Let the Wookie…

Do Whatever He Wants :)
32. Behind The Furry Faces

Have you even dreamed of meeting a clan and living with them for a week in the forest? Me too!
33. My Very Own Star Wars Dream

Collectibles, the real stuff. I spent days and nights of my childhood, and well, later too, dreaming about all this stuff. I love Star Wars!
If you've reached all the way here, you must be a true fan. Lean back, relax and enjoy 3 minutes of a great video!
Can you please share?
If you liked this post, I'm sure your friends would appreciate it as well. I worked hard on research, writing, images and editing and the truth is that I only earn from sponsors. If you'd like to say thanks, I would highly appreciate it if you could simply share on Facebook.
How simple is it to share? Just click on the blue share button here below (don't worry, you will be able to see how it looks first):
Thank you!
More from Briff.me
If you're anything like me, you were also obsessed with the Galaxy's #1 golden bikini. Click here for 28 Photos of Princess Leia's Bikini.
Assuming that you're a real fan of Star Wars, don't miss this exclusive post featuring historic moments with Star Wars moments.
This collection of photos from behind the scenes of star wars was curated and edited with the help of Google. Some of these brilliant photographs are shared all around the social web. If you find your very own photo or simply want to add specific credit – sure! Simply drop us a line and we'll be happy to add the details. Special thanks for credit go to Empire Online (link) for editing great texts and some of the photos.
Here at Briff.me, knowing that our precious time together on Earth is waaay too short for a long feed, we bring you the best of the best, like this special briff about Star Wars: Behind The Scenes. If you want to get more posts like this, click like on the Briff.me Facebook page.