Brilliant fun for Star Wars fans when history's greatest moments are recreated together with Star Wars imagination. Don't miss my favorite with Michael Jordan's mega dunk in #9 below…!
Following our post Star Wars in Real Life, an emerging artist offered Briff.me's editors an exclusive peak into his most recent work – and we loved it! Give it a second look to identify the smart political statement – it's there in almost all photos. Also, don't miss these 28 photos of the Princess Leia Bikini!
1. UN Translation Team
When President Obama came to speak before the United Nations General Assembly, the translation team needed reinforcement by the only droid that is fluent in over 6 million dialects. Can you spot C3PO in the background?
2. The Real Air Force One
Still with the Presidential family, the secret behind Air Force One is revealed when a Tyridium Spaceship is caught on camera.
3. Moonlanding Real Photo
The conspiracy around the photos from the first landing on the moon thickens with the appearance of R2D2 in the background.
4. Enola Gay Team
The team that landed the atomic bomb during World War II is upgraded with star pilot Luke Skywalker.
5. D-Day Battle with Imperial Tanks
Again, during World War II, the famous battle of the D-Day landing looks natural from this angle with the ATTE and Walker in the background.
6. Iranian Leadership
The Star Wars art collection doesn't miss an opportunity for a political punch with this iconic photo of Iranian Leader Ayatollah Khamenei with the portrait of Darth Vader behind him.
7. North Korea Demonstration
Do you think that the North Korean dictatorship would have allowed such a big demonstration without the huge banner of the real emperor?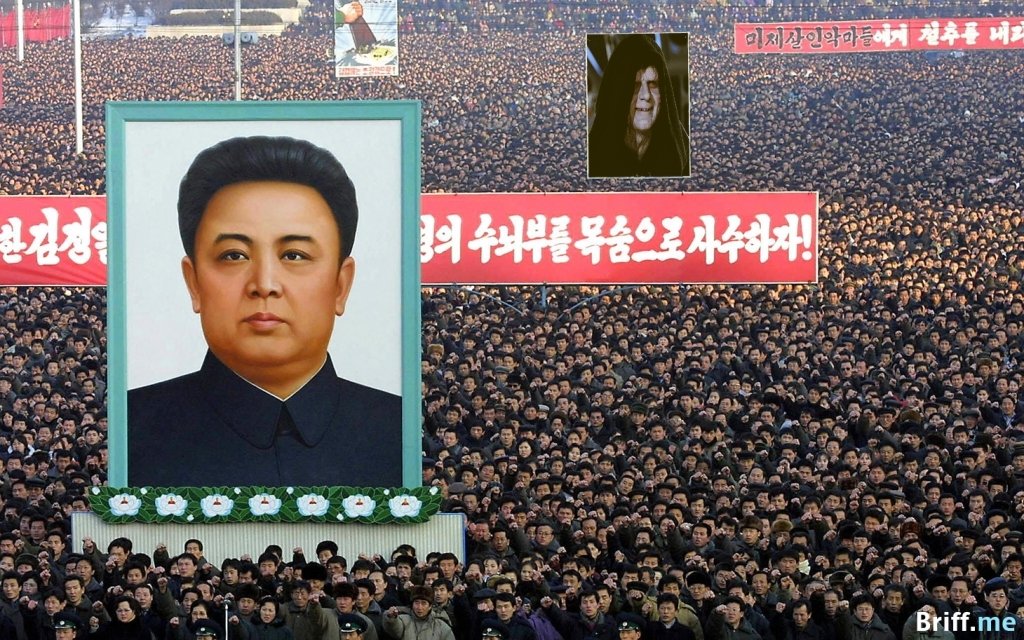 8. Peace Handshake and Light Sabers
My second favorite historic moment Star Wars recreation is this handshake between Israeli Prime-Minister Yitzhak Rabin and Palestinian Leader Yasser Arafat, under President Clinton's encouragement, signing the first peace treaty after many years of wars. Look carefully and notice how they lay down their light sabers with true intention towards peace.
9. Jordan's Dunk got Help
My favorite and the cleverest historic moment recreated with Star Wars is this mega dunk by Michael Jordan. We finally see the secret behind his super human capabilities – hidden in the crowd, Master Yoda is lifting Jordan using the Force. Ahhh, now it makes sense! If you don't see it, click on the photo to enlarge…
10. Deceleration of Independence
Princess Leia was a diplomat, so now wonder she joined the United States Deceleration of Independence, and yet the gun in her hand sheds a new light over the entire historic event. I also feel that placing her as the only woman in the room speaks very strongly.
11. Death Star Mission
After NASA closed the space shuttle program, I'm not sure who would defend humanity when the Death Star appears in our skies. What do you think?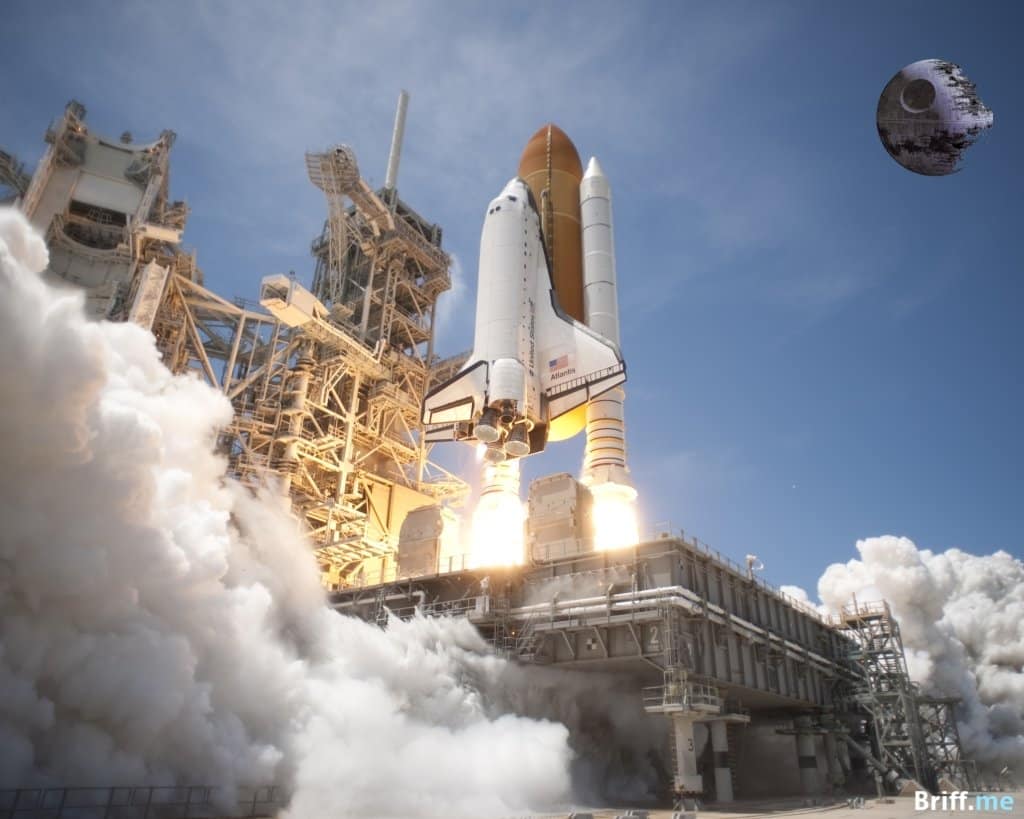 Notice: This is an original and exclusive post and all references must include clear credit and a link to Briff.me.
More from Briff.me
If you're a real Star Wars fan, you will love these 28 photos of the Princess Leia Bikini.
Here at Briff.me, knowing that our precious time together on Earth is waaay too short for a long feed, we bring you the best of the best, like this special briff about historic moments with Star Wars. If you want to get more posts like this, click like on the Briff.me Facebook page.
Liked this Briff? Click a button to Share…