Get ready, Zoolander fans! Zoolander 2 (2oolander, as we like to refer to it) is coming out in just a few days, and we can't wait to see what hijinks our favorite male models are getting up to these days! In honor of the new movie, we've put together some of our favorite trivia from the old one, plus some new information. Read on to get your Zoolander fix!
Read on for:
What Mugatu's name means
A fascinating cameo by a homeless man named Radio Man; and
A hilarious video clip of the first time Zoolander ever hit the silver screen.
Did you know that the role of Hansel was written for Owen Wilson? Ben Stiller has said that no one else was even considered for the role.
"Owen was the most important casting to me in the movie because I think he is one of the funniest people around–and the part was written for him," Stiller told Hollywood.com. "I don't think [the movie] could have [been] made if he couldn't do it."
Who else was written in without being consulted?
In another instance of writing a part for someone, having David Bowie judge the walk-off was a total leap of faith for the writers. They wrote the part and then asked Bowie. Thankfully, the rockstar agreed. He was the perfect choice, due to his own legendary sense of style and his song, "Fashion."
Why male models? next for the funny fact about that scene.
In the scene where Derek meets J.P. Prewett (the hand model, played by David Duchovny) he asks, "But why male models?" Prewett launches into a long response, to which Derek responds, "but why male models?" That scene is improvised – Ben Stiller forgot his lines and Duchovny rolled with it, saying, "Seriously? I just told you that, like, a moment ago."
Where did blue steel come from?
Derek Zoolander is known for his "Blue Steel" face. It was inspired by the face Stiller makes when combing his hair. "It came of looking in the mirror when I was brushing my hair or whatever," he told Esquire magazine. "My wife [actress Christine Taylor] would say, 'Why are you making that face? Why are you doing that?' "
Ever noticed who REALLY killed Lincoln?
James Marsden plays John Wilkes Booth. In the hilarious scene where J. P. Prewett is explaining the centuries-old male model killer conspiracy, it cuts to a scene of the assassination of Lincoln. The shooter looks into the camera with a face that is unmistakably Blue Steel. The handsome model there is none other than James Marsden .
Who was originally meant to play Mugatu?
Mugatu was originally written for Andy Dick. He was unable to complete the role due to previous commitments, and was replaced with Will Ferrell. He did make an unforgettable, kind of terrifying appearance as Olga the Masseuse, though.
Speaking of terrifying, how did Katinka come to be?
Milla Jovovich, who plays Mugatu's straight-faced, no-nonsense, downright scary assistant Katinka, has said she based her character off of her mother, Russian-born actress Galina Jovovich.
And speaking of parents, whose parents were in this movie?
Speaking of parents, Ben Stiller's parents are in the movie. His father Jerry Stiller plays Maury Ballstein, and his mother, Anne Meara, eggs Mugatu at the red carpet. He didn't stop at casting just his family – his sister, Amy Stiller is at Hansel's loft, and his brother-in-law, Mitch Wilson, directs the infomercial. Also, his wife is Christine Taylor, his movie love interest and hard-nosed reporter bent on discovering the truth.
Was Derelicte's fashion line really available in stores?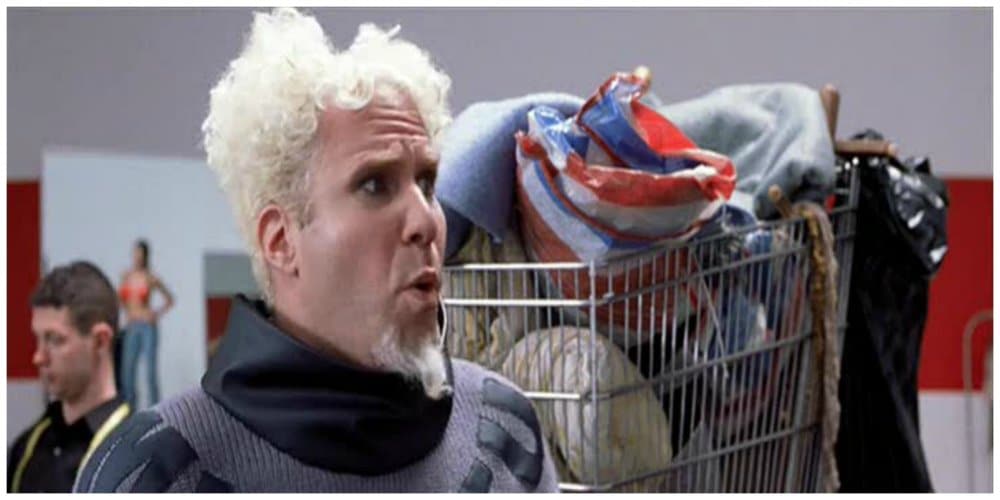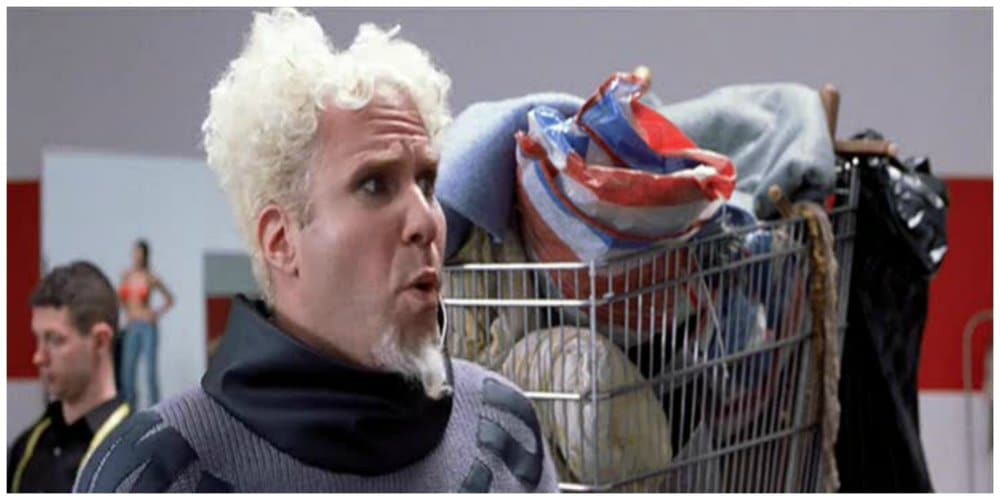 Mugatu's "Derelicte" line was actually based in reality. In 2000, John Galliano debuted a line of clothing based on homeless people – a sort of shabby, hobo chic, if you will. The line featured models wearing newspapers, torn linings, and empty J&B cups.
Who played the evil DJ?
Justin Theroux, who helped write, produce and direct Zoolander 2, also appeared in the original as the evil DJ. In a deleted scene, he also breakdances, and had no stunt double. At Ben Stiller's marriage to Christine Taylor, Theroux had breakdanced. Stiller asked him to breakdance in the movie after seeing his moves.
Which currently famous actor got his start in this movie?
Alexander Skarsgård (True Blood, Melancholia, and more) made his first debut on American screens here as one of the dim-witted male models who ends up dying in a freak gasoline fight accident. Here's an extended scene of the models together that was shortened for the theater release.
Where was the movie banned from? The answer will surprise you!
The film was banned in Malaysia because the whole plot revolves around killing the Malaysian prime minister. In other countries in Asia, the name was changed to Micronesia. The film was also banned in Iran, for "provoking gay rights." We're not exactly sure what that entails, but we guess the Iranian censors just weren't a fan of Mugatu's hair.
Speaking of…
How did Will Ferrell get those luscious platinum locks?
Will Ferrell had to dye his hair several times over the course of filming. It was actually his idea to have his character with the platinum hair, and though he's said he wouldn't repeat it, it looks like he's eaten his words – Mugatu is back in Zoolander 2, with his white blonde hair, too.
What's the deal with Mugatu anyway?
Where did the name Mugatu come from, anyway? This evil villain's name was originally meant to be McQuicken, named after Alexander McQueen, but was changed to Mugatu, inspired by an alien creature from Star Trek named Mugato. They even look alike, both sporting fluffy white hair.
Speaking of alien creatures, did you notice anything funny about the computer scene?
The scene where Derek and Hansel are trying to figure out how to use the iMac and get the files out of it is a clear reference to 2001: A Space Odyssey, where the monkeys are confused by the giant monolith.
What's going to happen in 2oolander?
The original script for the sequel had Derek and Hansel living in Europe, irrelevant to the fashion community. I guess we'll have to wait till we watch it to get the full scoop, but so far we know that Interpol is going to get these two intrepid beautiful faces to help them solve a series of fashion-related deaths. Mugatu is also back with a vengeance, after spending years in fashion prison. Also, Kristen Wiig is playing an overly plastic surgeried woman and she and Mugatu share a hilarious kiss.
Which famous faces will you be seeing in the sequel?
So far, we know that the next movie will be, in a word, amazing. Aside from the original heavyweights that filmed the first movie, they've added some more amazing actors – Kristen Wiig, Penelope Cruz, and Benedict Cumberbatch, as well as a whole slew of famous young people – Justin Bieber included!
Owen Wilson famously improvised one amazing scene – which was it?
Proving why Ben Stiller insister on having Owen Wilson, his entire VH1 Fashion Award interview was improvised. Seems like Wilson was the kind of kid who was more interested in what bark was made of than reading lines. Wilson has said that it was a testament to how much he got into Hansel's mindset that he was able to come up with such brilliant lines on the fly.
Why did Derek appear in blackface?
In the coal mining scene, Zoolander appears in blackface. Blackface has a long and ugly history, but it was Ben Stiller's idea to have it in the movie. In commentary from the DVD, he said, "It's coming from an innocent place, with Derek." Given Derek's dubious mental capacity, we buy that.
Ever heard of Radio Man? We tell you about him, next!
The man who shows up as a model for Mugatu's Derelicte line is actually a famous, formerly homeless New Yorker. Known simply as Radio Man, he has appeared in hundreds of movies and even has a fascinating documentary about him. Whoopi Goldberg even took him to the Oscars once.
How was the movie originally meant to end?
We have budget cuts to thank for Zoolander 2! The original movie was supposed to end with Derek being killed by a train. The last scene would have taken place in heaven. Thankfully, the idea was scrapped, and 15 years later, we get to find out the rest of this tale.
How was the walk-off filmed?
The walk-off took the longest to film and edit. It took about four days of Wilson and Stiller showing off their wildest moves, and even longer to edit. Eventually, they decided to do a split-screen and the editing went much faster afterward.
Does Owen Wilson know how to use a yo-yo that well?
Owen Wilson needed a fair amount of doubles for all his stunts – his breakdancing, scooter work, regular stunts/fight scenes, and most importantly, his yo-yo scenes. A yo-yo professional (didn't know those were even real!) was flown in from Florida for the task.
Finally, what ACTUALLY inspired Derek Zoolanders character? See next for a hilarious video!
According to an interview with Ben Stiller, Zoolander started out as a character sketch for VH1 Fashion Awards in 1996. After several years of script re-writes and rejections from studios, the film was finally green-lighted and filmed. The movie's release immediately following September 11th has been cited as a reason for its failure at the box office. Check out the hilarious clip below!
If you liked this post, we're sure your friends would appreciate it as well. We worked hard on research, writing, images and editing and the truth is that we only earn from sponsors.
If you'd like to say thanks, we would highly appreciate it if you could simply share on Facebook.
Thank you!
More From Briff.me:
Here at Briff.me, knowing that our precious time together on Earth is waaay too short for a long feed, we bring you the best of the best, like this special briff about the best stories from Zoolander. If you want to get more posts like this, click like on the Briff.me Facebook page.