Young and old, bold and soft, strong and sexy – they are all amazing. These are the 100 greatest female characters in movies. Test yourself – How many do you know? And add your very own. Personally, the top 10 were the most difficult but I was both shocked and I LOVE the #1 choice. And you? (Click Next below to browse)
100. Baby (Dirty Dancing)
The Character: Dirty Dancing's Jewish princess learns to thrust 'n' grind with Swayze's Johnny Castle. Nobody's gonna put her in a corner now.
The Actress: Though familiar as Ferris Bueller's sister, Jennifer Grey was also the daughter of Oscar-winning dancer Joel Grey, so had the heritage to pull off those moves. And still has, judging from her recent Dancing With The Stars win.
The Performance: The Bible for how to become a woman, for girls of a certain age.
99. Cherry Darling (Planet Terror)
The Character:Planet Terror's go-go dancer, whose job title is aptly named. Not even having her leg torn off by zombies can stop her. Plug in a grenade-launching gun and she's good to go-go.
The Actress: Already a cult sensation thanks to Charmed and a fistful of Gregg Araki movies, Rose McGowan was born to play Grindhouse.
The Performance: Rich in knowing humour and fucked-up sexiness, Rose's Cherry is exactly the kind of girl you need in the post-apocalypse.
98. Vivian Ward (Pretty Woman)
The Character: The titular Pretty Woman, who doesn't let being a prostitute get in the way of a Pygmalion-style makeover into a modern-day princess.
The Actress: Julia Roberts had shown Oscar-nominated promise in Steel Magnolias, but still had to wait until others (including Daryl Hannah and Meg Ryan) turned it down. Result: the It Girl of the early '90s.
The Performance: Developed as a dark drama called $3000 (as in, she'll do anything for that price), the decision to lighten the mood into a love story was centred on Julia Robert's toothy charm and wholesome appeal.
97. Samantha Baker (Sixteen Candles)
The Character: Suburban teenager looking forward to blowing out Sixteen Candles with family and friends, only to discover everybody's forgotten her birthday except Ted the Geek.
The Actress: Debut director John Hughes needed experience but wanted a genuine teenager. He found the combo in Molly Ringwald, still only 16 herself, but fresh off Spacehunter: Adventures in the Forbidden Zone.
The Performance: Gawky, sarcastic and idealistic, Ringwald represented a richer, more realistic paradigm for screen depictions of teenage girls.
96. Stifler's Mom (American Pie)
The Character: Put simply, a MILF. And the inspiration for a sub-genre of porn remains a satisfyingly flirty, filthy archetype.
The Actress: This was jobbing comedienne Jennifer Coolidge's big-screen breakthrough, enough to get her a regular gig as one of Christopher Guest's Mockumentary repertoire alongside American Pie co-star Eugene Levy.
The Performance: A shallow, one-dimensional figure on paper gets real presence thanks to the naughty twinkle in Coolidge's eyes.
95. Layla (Buffalo '66)
The Character: Buffalo '66's teenage dancer, who is kidnapped by crazy ex-con Billy Brown but is arguably just as crazy herself, willingly pretending to be his wife for a strange family reunion.
The Actress: Child star Christina Ricci was in the process of translating Addams Family oddness into an adult career. She followed Buffalo '66 with the equally acerbic The Opposite of Sex.
The Performance: Director/star Gallo labelled Ricci a puppet, but she gives as got as she gets, refusing to let Layla be drowned out by Gallo's narcissism.
94. Marquise de Merteuil (Dangerous Liaisons)
The Character: The most dangerous liaiser in Dangerous Liaisons, the Marquise is in the business of ruining lives for her own sexual pleasure.
The Actress: By the late 1980s, Glenn Close was both a major film star thanks toFatal Attraction, and a Broadway veteran – the ideal combo for the play's tart dialogue.
The Performance: Arguably more frightening than Alex Forrest, Close acts as her own name suggests: quiet, guarded but devastatingly powerful.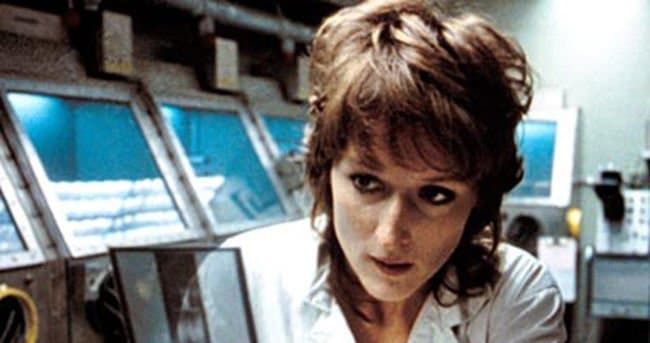 93. Karen Silkwood (Silkwood)
The Character: Real life worker in a nuclear power plant whose brave investigation into unsafe practices led to her suspicious death in a motor accident. This never happened to Homer Simpson.
The Actress: Still only in her mid-30s, Meryl Streep already had two Oscars under her belt and a reputation as the best actress around.
The Performance: More fuel for Streep's reputation, so utterly convincing as a blue-collar, mid-West factory worker you even believe that her best friend could be Cher.
92. Marnie Edgar (Marnie)
The Character: It's hard enough being frigid kleptomaniac haunted by a terrible childhood memory, without brutish Sean Connery blackmailing you into marriage.
The Actress: When Grace Kelly's royal marriage prevented a rematch with Alfred Hitchcock, he cast the ingénue he'd groomed – and terrorised – during The Birds: Tippi Hedren.
The Performance: Marnie is the most challenging role given to a Hitchcock blonde induced a suitably hysterical, rabbit-in-the-headlights performance from Hedren.
91. Briony Tallis (Atonement)
The Character: A teenage girl whose erroneous accusation in Atonementdestroys a love affair and plagues her for the rest of her life.
The Actresses: Newcomer Saoirse Ronan, Romola Garai and Vanessa Redgrave – a miraculous generational relay race.
The Performances: Briony's later guilt and desperation are ably conveyed by Garai and Regrave, but it's Ronan's blazing, complex portrayal of pubescent confusion that dominates the film.

90. Gertie (E.T.)
The Character: Elliott's younger sister, whose spontaneous affection for E.T. the extra-terrestrial forged a loveable bond between human and alien.
The Actress: Five-year-old Drew Barrymore was already a screen actress (debut: Altered States), but then her grandparents included Golden Age stars John Barrymore and Dolores Costello.
The Performance: Spielberg famously shot E.T. in chronological order, so Barrymore's wide-eyed wonder is very probably the real thing.
89. Mrs Danvers (Rebecca)
The Character: Deranged housekeeper who mentally torments the second Mrs de Winter for not living up to the standard set by her predecessor, the eponymous Rebecca.
The Actress: With A-list stars Laurence Olivier and Joan Fontaine in place, Hitchcock underlined Danvers' menace by casting stage actress Judith Anderson, a relative unknown.
The Performance: Anderson's spectral, sexually ambiguous presence fulfils Hitchcock's love of subtext perfectly: is Danvers a lesbian? Or even a ghost?
88. Jean Brodie (The Prime Of Miss Jean Brodie)
The Character: Give her a girl of an impressionable age, and she's hers for life. Great, when Brodie's teaching them about culture and romance. Not so smart when Brodie is worshipping fascism.
The Actress: Maggie Smith's star had slowly risen throughout the 1960s on stage and screen, but The Prime Of Miss Jean Brodie was her biggest role – and her biggest challenge – to date.
The Performance: Haughty, severe and yet often away with the fairies, Maggie Smith throws everything into her Oscar-winning role… to the point where everything she's done since (not least Minerva McGonagall) has echoes of Brodie.