Funny Christmas Trees – Merry Christmas!
We wish you a Merry Christmas! And for this special Christmas morning, why not start with a smile? Christmas trees are a great tradition. But with the years going by, it's getting difficult to put up an original Christmas tree. And so, especially for this holiday season, here are some very funny Christmas trees. Happy Holidays!
1. A Christmas tree going through the roof…!
And this family isn't alone in letting the tree grow like this…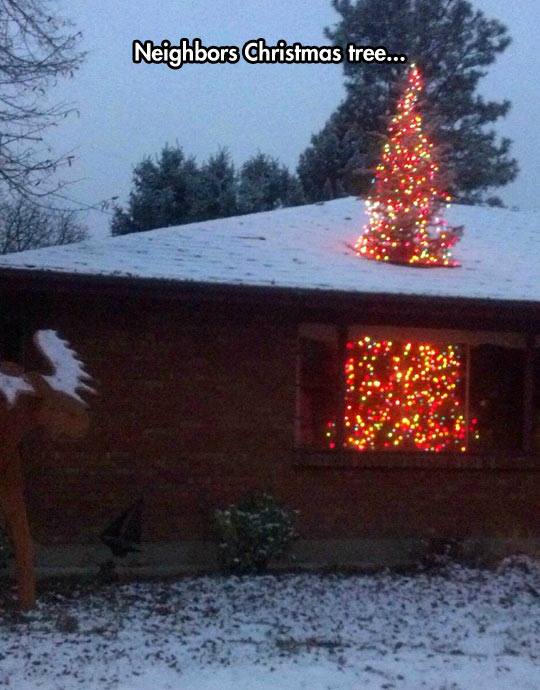 2. Our Christmas tree star is… Darth Vader!

3. Pac Man takes over the Christmas Tree
4. Yummy! A Chocolate Christmas tree</3>

5. Hmm… Isn't this tree a little up side down?
6. Thanks Jack! This is a drunk Christmas tree
7. And while we're drinking, why not a beer bottle tree?

8. So funny, check out this tiny Christmas tree
9. Would this tree continue to grow or blow up?
10. Movie inspiration – A Minion Tree!
11. Don't forget to cat proof your Christmas tree
Unless you want your cat as an ornament…
12. And don't neglect your other pets – Why not a Christmas tree for your fish aquarium?
More from Briff.me
In the same spirit of the holiday, why not browse through original Christmas greetings?
Perhaps you knew this and perhaps it's new to you, but Christmas is celebrated during one of the shortest days of the year. Meaning that at least in North America and Europe, it has the fewest hours of daylight. This fact could explain why we celebrate with so many Christmas lights, right? And so, it turns out that many cultures around the globe have their very own celebration with lights during this period. Check out this lovely post about Lights Festivals.
This collection of funny Christmas trees photos was researched and edited with the help of Google. If you found you're own photo here and want detailed credit – sure! – just drop us a line and we'll add it.
Here at Briff.me, knowing that our precious time together on Earth is way too short for a long feed, we bring you the best of the best, like this special briff about funny Christmas trees. Want to get more posts like this? Please be sure to like the Briff.me Facebook page.
Liked this Briff? Click a button to Share…