The Shawshank Redemption: Secrets, Facts, Quotes and Rare Behind the Scenes Stories
You're not alone. The Shawshank Redemption ranks #1 in many lists of the most favorite movies of all times. So many of us love this movie. But I bet that you didn't know most of the stories here. Any true fan would love these stories. I admit that I didn't know most of them myself… And I couldn't believe some of the stories, don't miss the videos towards the end… Wow!

– How long did Morgan Freeman had to pitch that ball?
– How much was the original story sold for? Hint: less than you'd imagine…
– How did they made him look so young for the mugshot?
All the answers and many more surprising stories and photos are here. There are many great photos from behind the scenes, so I had to split the post into several pages.
True fan? Scroll down to continue and enjoy!
How did they make him look so young?
True story. For the picture of young "Red" Redding on his mugshot, actor Morgan Freeman's son Alfonso was tapped to portray him decades ago. So that's why the photo looked so real… great idea. Alfonso also has a brief part in the film taunting the new arrivals as they get out of the bus.
Box Office Numbers: With a very modest hit in theaters when it opened 20 years ago, some called it a dud at the box office reaching about $2.5 million on the first weekend. And yet, over time, The Shawshank Redemption became one of the highest grossing video rentals of all time. After grossing $28 million at the box office in North America and another $30 million overseas, it went on to the video rental market and by the end had made about $80 million in sales. Adding television licensing fees to date, the film has brought in more than $100 million.
Don't miss the video towards the end! But how much did they pay for the original story?
How much did they pay for the original story?

Horror Movie? You know best-selling author Stephen King for his horror books and movies, including The Shining, Misery, Per Sematary, Carrie, and many more. But early in his career, in 1982, King released Different Seasons, a collection of four novellas, markedly different in tone and subject, each on the theme of a journey. One of the best childhood journey films of all times is based on the novella The Body, adapted into Rob Reiner's Stand by Me (1986). Another film was created by Bryan Singer – Apt Pupil (1998).
The Shawshank Redemption is based on another novella from the same book called "Rita Hayworth and Shawshank Redemption". Some people who know literature claim that the novella's plot-line is heavily based on a nine-page short story called God Sees the Truth, But Waits by Russian author Leo Tolstoy (Both are about men sent to prison for murders they didn't commit). By the way, the fourth novella in that book, "The Breathing Method," is still waiting to be turned into a movie.
So, what was the price? Amazing! Stephen King sold the film rights for his novella "Rita Hayworth and Shawshank Redemption" for the ridiculously low price of $5,000 (and some say only $1). He never cashed the check. Years after Shawshank came out, the author got the check framed and mailed it back to the director Frank Darabont with a note inscribed: "In case you ever need bail money. Love, Steve."
Would you believe it almost had no Morgan Freeman in it…?
Just how amazing is Morgan Freeman?

Morgan Freeman is Amazing! Andy and Red's opening chat in the prison yard – in which Red is pitching a baseball – took 9 hours to shoot. Morgan Freeman pitched that baseball for the entire 9 hours without a word of complaint. He showed up for work the next day with his arm in a sling. By the way, Morgan Freeman confirmed that this is his favorite film of his own.
And we almost had another actor… After director Frank Darabont pitched Shawshank to the studio, Rob Reiner originally offered $2.5 million for the script to star Tom Cruise as Andy Dufresne and Harrison Ford as Red. Yes, it would have been different. In fact, Clint Eastwood, Harrison Ford, Paul Newman and Robert Redford were all considered for the part of Red. In the original novella, Red is a middle-aged Irishman with graying red hair. However, Frank Darabont always had Morgan Freeman in mind for the role because of his authoritative presence, demeanor and deep voice. And luckily he did, right?
Funny! In Stephen King's original story, Red was written as a white Irishman. In the movie, they left the line, "Maybe it's 'cause I'm Irish", in as a joke, even after they had cast Morgan Freeman as Red. Wait, what about Tim Robbins? Scroll down!
What's next? Just how amazing is Tim Robbins
Just how amazing is Tim Robbins?

Tim Robbins is also Amazing! In the scene with Andy arriving in the library as Brooks' assistant while Brooks' crow Jake is squawking, Tim Robbins had to time his line, "Hey, Jake. Where's Brooks?", so that the crow wouldn't squawk over him since the bird could not be trained to squawk on cue. Robbins was able to adapt to this and time his line perfectly by learning the bird's squawking patterns, for which Director Frank Darabont praised him. Robbins' improvisation is noticeable as he watches the bird carefully while approaching it, waiting for it to squawk, and doesn't begin his line until after it does so.
And we almost had another actor… Tom Hanks, Kevin Costner, Tom Cruise, Nicolas Cage, Johnny Depp and Charlie Sheen were all considered for the part of Andy Dufresne. Hanks turned it down because he was committed to Forrest Gump (1994). Kevin Costner liked the script a lot but was then embroiled in the filming of Waterworld (1995) and rejected it. A decision he strongly regretted later on.
Oh, and what about Rita Hayworth and the other hot women?
Where is Rita Hayworth?

The Marilyn Monroe Poster: The entire movie revolves around men. That's all they had in prison. And the women appear only on posters. The less mentioned poster is of the most famous actrees Marilyn Monroe, here on the left side.
The Rita Hayworth Poster: Here on the right side is the original poster of Rita Hayworth. Director Frank Darabont wrote the script in eight weeks before pitching it to Castle Rock Entertainment. He decided to drop the "Rita Hayworth" part of the novella because actresses sent their resumes in for consideration thinking it was a Rita Hayworth biopic. During the casting process, Darabont even received a call from an agent who represented a supermodel; he swore the script was the best she had ever read and that she'd be perfect for the (non-existent) part of Hayworth. Minor Goof: The full-size photo poster of Rita Hayworth that Red procures for Andy in 1949 comes from a series of celebrity posters that went on sale in the early 1960s.
The Raquel Welch Poster: When the warden throws a rock through a poster hiding the hole in the wall, it is a poster of Raquel Welch from the film One Million Years B.C. (1966) – here in the middle. While she didn't actually played in the film, Raquel Welch confirmed that she was a big fan of the finished movie.
Hmmm… Who was Rita Hayworth? Don't miss the video towards he end!
Who was Rita Hayworth?

The Love Goddess: The obsession of the prisoners is justified. Rita Hayworth (born Margarita Carmen Cansino; October 17, 1918 – May 14, 1987) was an American actress and dancer. She achieved fame during the 1940s as one of the era's top stars, appearing in a total of 61 films over 37 years. The press coined the term "love goddess" to describe Hayworth after she had become the most glamorous screen idol of the 1940s. She was the top pin-up girl for GIs during World War II.
Which movie were they watching? In Shawshank, when the prisoners are watching a movie in prison, it's actually Rita Hayworth's Gilda from 1946, her most famous performance, opposite Glenn Ford, in which she played the femme fatale in her first major dramatic role. She is listed as one of the top 25 female motion picture stars of all time in the American Film Institute's survey.
Just before you scroll down, one more good thing. In 1980 Hayworth was diagnosed with Alzheimer's disease, which contributed to her death at age 68. The public disclosure and discussion of her illness drew international attention to Alzheimer's, then a little-known disease, and helped to greatly increase public and private funding for Alzheimer's research.
Coming up next: One of Sexiest Stars in Film History…
Who is Raquel Welch?

Through whom did they break out? The main poster covering the whole in the wall was of Raquel Welch from the film One Million Years B.C. (1966). Raquel Welch (born Jo Raquel Tejada; September 5, 1940) is an American actress and singer. But at that famous movie, she didn't talk much. In fact, she had only three lines in that film, yet images of her in the doe-skin bikini which she wore became best-selling posters that turned her into a celebrity sex symbol.
Not just a sex symbol! Later in her career Welch starred in many notable films. She carved out a place in movie history portraying strong female characters and breaking the mold of the submissive sex symbol. In 1995, Welch was chosen by Empire magazine as one of the "100 Sexiest Stars in Film History". Playboy ranked Welch No. 3 on their "100 Sexiest Stars of the Twentieth Century" list.
Can you believe that the escape tunnel actually exists today?
Prison Life as Background

Not just a prison movie. The Shawshank Redemption contains nearly every prison cliche: bribes, brutal guards, a cruel warden, rape, the old and respected trustee, dumb felons, cowardly felons, beatings, murder, and an escape. The only thing missing is a riot. Author Stephen King has said that his original novella was a culmination of all the memories he had from watching prison movies when he was a child.
The Real Prison: The Shawshank prison, in the book and in the movie, was loosely based on Thomaston prison, an aging prison located in Thomaston, Maine. That real life prison closed in 2004 due to its small size and dilapidated structure. In the film, the exteriors were filmed at the defunct Ohio State Reformatory in Mansfield, Ohio. The prison was in such poor condition, renovations had to be made prior to filming. However, most of the interiors were shot on a sound stage, because they determined it would be cheaper to build duplicates of the interiors rather than renovating the interiors of Mansfield. The prison is located in the flightpath of C-130 Hercules aircraft of the 179th Airlift Wing, Ohio Air National Guard, which caused all sorts of sound problems.
Can I invite want to visit the actual prison?
Real Prison for Real Fans

You can see the real warden! In the middle of the film when the bus is bringing Tommy Williams to Shawshank, the man sitting behind him on the bus is Dennis Baker, who had been the real-life warden of the Ohio State Reformatory (where Shawshank was filmed). In this photo above, actor Bob Gunton who played Warden Norton.
You can actually visit that tunnel! The prison that played Shawshank, the Ohio State Reformatory, now serves as a museum. Because it was scheduled for demolition at the time of filming, several set pieces remain intact in the prison, including the tunnel Andy crawled out of and the warden's office. By the way, Clancy Brown, who plays Captain Hadley, said that he received several offers from real-life corrections officers to work with him to make his portrayal of Captain Hadley more realistic. He turned them all down because Hadley was an evil character and he didn't want to misrepresent real corrections officers.
Next comes the treasure…!
Who Wants to Search for the Treasure?

The Wall is Real! The rock wall where Red's "treasure" is buried was built specifically for the film and stood for many years. It was built by hand by the art department months before filming began. This allowed for the alfalfa grass to grow to make it look weathered. Eventually, the wall was sold on eBay, one rock at a time, by the farmer who owned the land it stood on. The tree at the end of the wall stood until it was cleaved in two by a lightning strike in 2011. A portion of its remains now stands, propped up, by the pond on the grounds of the Ohio State Reformatory.
Where is it? That wall, where Red Finds Andy's letter, isn't in Fort Hancock, Texas at all. It's actually in Ohio's Malabar Farm State Park.
You can still find the treasure… Buxton, where Andy says he proposed to his wife and buried the "treasure" for Red under the tree, is a real life small town in Maine (population 7452 as of the 2000 census) about 15 miles west of Maine's largest city of Portland, where Andy was a banker.
Do you remember the strong opera scene?
Remember the Opera Scene?

See all these prisoners? While Mansfield Prison locals were eager to be extras, many weren't available during the day due to their jobs or were only available for one day, which obviously wouldn't work in a prison film. So extras were found at a halfway house, some of them real-life ex-cons. The City of Mansfield, Ohio held all day open auditions for extras. So much interest was shown that they accepted no more people after 3pm.
The Opera Scene! This photo is taken from one of the film's signature setpieces when Andy Dufresne barricades himself in the Warden's office and serenades the prison with opera music over the prison's loud-speakers. Interestingly, this scene was not in the original novella, and actor Tim Robbins thought of the idea himself. The opera song is "Canzonetta sull'aria" from Wolfgang Amadeus Mozart's "Marriage of Figaro."
And now… Let's go to Mexico!
The Mexico Paradise and an Alternate Ending

The Paradise Escape: Andy and Red escape to Zihuatanejo, a Mexican paradise in the Pacific coastal state of Guerrero. In 1966 it was still a small fishing village which matches how Andy first described it to Red, but has since grown into a large tourist city. The US Virgin Islands stand in for Zihuatanejo in the film. While there, in Mexico, the title for the movie is "Sueños de Fuga", which means "Dreams of Escape."
Alternate Ending: Instead of the Mexico scene, Director Frank Darabont preferred to end the film with Red searching for Andy. In fact, if he had been allowed to shoot the ending as he wanted, the closing shot would have been Red on the bus heading for the field. Darabont wanted to end on an open, ambiguous note. But Castle Rock insisted on a reunion between the two to please audiences. So instead of showing us a teary reunion, the film observes it from a distance. Darabont's response to Castle Rock's demands.
Don't miss the quotes towards to ending – worth remembering and sharing…
From 1947 to 1966

Almost 20 years: The plot takes place between 1947, when in Portland, Maine, banker Andy Dufresne is convicted of murdering his wife and her lover and sentenced to two consecutive life sentences, and 1966 when he escapes prison. Red says that Andy broke out in 1966. This was the same year as the landmark Miranda v. Arizona case before the Supreme Court, where it was decided a defendant must be informed of their rights (i.e. right to remain silent, right to an attorney, etc.), when put under police custody. That's why at the end of the film, when they arrest Captain Hadley (Clancy Brown), the officer is reading the Miranda rights from a piece of paper.
Lot's of Money! The $370,000 Andy stole from the Warden in 1966 may not seem a huge amount for 20 years incarceration but adjusted for inflation to 2014, Andy stole the equivalent of $2,703,466.67.
Minor Schedule Goof: While in prison, it was about 1949. Here in the photo, the prisoners are drinking Stroh's beer on the roof. But… Beer bottles didn't have screw tops in 1949. Scroll down for the famous rain scene… Wow!
Finally: The Shawshank Redemption Rain Scene
The Shawshank Redemption Rain Scene

Rain and Sewage: The photo for the rain scene was already included in the first story about Tim Robbins. Here in this photo you can see him escapes through the sewage. Starting with the famous rain scene, they got lucky! Every take of the film's signature shot of Tim Robbins raising his arms outstretched in the rain after Andy breaks out of prison was out of focus except the one in the film. It was the final take shot for that scene.
Rain of Freedom: The Norwegian title for the movie is "Frihetens Regn", which means "The Rain of Freedom."
Down to the Sewage: For the sewage tunnel sequence, Tim Robbins initially refused to immerse himself in the muddy water at the end of the pipe after a chemist tested the water and dubbed it lethal. But eventually he did, as we all know. Oh, and Red describes Andy's dream as a "shitty pipe dream". During his escape to live that dream, Andy crawls through the sewer pipe of the prison, literally a "shitty pipe".
I couldn't believe the story about the bible…
Exodus from Prison

Have you noticed which page of the Bible it was? When Warden Norton opens his wall safe near the end of the film, and he opens Andy's bible, the bookmark ribbon is on the first page of the book of Exodus. The book Exodus tells the story of the flight of the Hebrews from Egypt. Exodus is also where Andy began cutting out the pages to hide his rock hammer during spot inspections. Exodus literally means "to escape or depart."
Interesting Trivia fact: The visual idea of Andy's rock hammer being tucked into the Bible right after the first page of the Book of Exodus came from the film's prop master Tom Shaw. Want another one? Sure: None of the close-up shots of Andy's hands or feet belong to Tim Robbins. They're actually those of director Frank Darabont. But why? These closeups were filmed during post production, notably because Darabont felt that only he could do exactly what he wanted in the closeups.
The truth please, have you cried when watching? Scroll down to find who did dry…
Guys can finally Cry

You can cry: The Shawshank Redemption is now widely considered one of the best films of all time. It is also considered to be the ultimate in "guy cry" cinema. This means that guys allow themselves to cry when watching it. I cried mainly through the story of the old guy Brooks.
You can cry often… Luckily for emotional guys, the movie is braodcasted on TV very often. You know why? After the film gained popularity, Ted Turner sold the television rights to TNT, his own network, for much lower than normal for such a big film. Because it is so inexpensive to show, the film is broadcast on TNT extremely often.
Almost Guys Only: There are only two women with speaking roles in the film: the customer who complains about Brooks' service at the grocery store, and the lady who attends to Andy at the bank following his escape. Scroll down to cry with Brooks…
What's Next? The Sad Story of Brooks
The Sad Story of Brooks

Elaborated Sad Story: Among the changes that Frank Darabont made to the story from the original novella was that Brooks' poignant story was conveyed in one paragraph. In the movie is longer and much sadder. Actor James Whitmore was cast in the part of Brooks because he was one of Frank Darabont's favorite character actors.
What did he do? Although it is never directly stated in the film, allegedly Brooks is in prison for murdering his wife and daughter after a losing streak at poker.
Interesting story about the maggot: The American Humane Association monitored the filming of scenes involving Brooks' crow. During the scene where he fed it a maggot, the AHA objected on the grounds that it was cruel to the maggot, and required that they use a maggot that had died from natural causes. One was found, and the scene was filmed. Scroll down for some inspiring quotes!
Scroll down for The Shawshank Redemption Quotes
The Shawshank Redemption Quotes

Brilliant Quote: The genius script of The Shawshank Redemption holds precious wisdom and several very smart quotes. My favorite quote is of course from Andy Dufresne: Get busy living, or get busy dying.
No wonder that Red, when narrating Andy's story, says about him: "Andy Dufresne – who crawled through a river of shit and came out clean on the other side."
And there are many more smart sayings… Next!
Strong Hope Quotes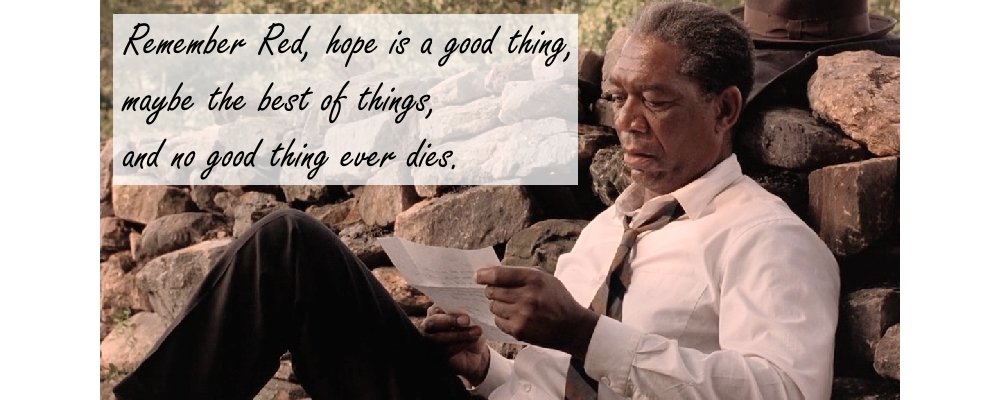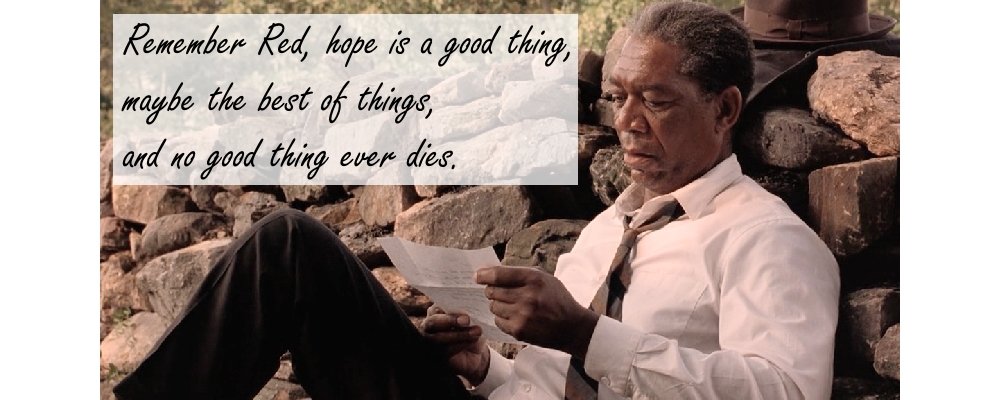 Hope is Dangerous. At the beginning, Red tells Andy: Let me tell you something my friend. Hope is a dangerous thing. Hope can drive a man insane.
Hope is Good. Yet towards the end, Andy writes back in the letter he left for Red: Remember Red, hope is a good thing, maybe the best of things, and no good thing ever dies.
Last lines of the movie, Red narrating about hope of course: I find I'm so excited, I can barely sit still or hold a thought in my head. I think it's the excitement only a free man can feel, a free man at the start of a long journey whose conclusion is uncertain. I hope I can make it across the border. I hope to see my friend and shake his hand. I hope the Pacific is as blue as it has been in my dreams. I hope.
Complete the quote: Same Old Shit… Scroll down for the answer.
Same old Shit, Different Day

One of the best quotes from Red is: Same old Shit, Different Day. And here's his wisdom from the parole hearing. Every word is worth gold!
1967 Parole Hearings Man: Ellis Boyd Redding, your files say you've served 40 years of a life sentence. Do you feel you've been rehabilitated?
Red: Rehabilitated? Well, now let me see. You know, I don't have any idea what that means.
1967 Parole Hearings Man: Well, it means that you're ready to rejoin society…
Red: I know what you think it means, sonny. To me, it's just a made up word. A politician's word, so young fellas like yourself can wear a suit and a tie, and have a job. What do you really want to know? Am I sorry for what I did?
1967 Parole Hearings Man: Well, are you?
Red: There's not a day goes by I don't feel regret. Not because I'm in here, because you think I should. I look back on the way I was then: a young, stupid kid who committed that terrible crime. I want to talk to him. I want to try to talk some sense to him, tell him the way things are. But I can't. That kid's long gone, and this old man is all that's left. I got to live with that. Rehabilitated? It's just a bullshit word. So you go on and stamp your form, sonny, and stop wasting my time. Because to tell you the truth, I don't give a shit.
Do you know what was the secret of the sewage? Scroll down!
Andy's Crawl To Freedom Would Have Smelled Rather Nice

The truth about the sewage scene! If there's one scene in Shawshank that makes you green around the gills more than any other, it would have to be when Andy crawls the length of, as Red puts it "five football fields, or just shy of half a mile" in a sewage pipe full of excrement, urine and any other god awful substances that inmates would flush down a toilet in prison. Obviously, the films producers wouldn't have made Tim Robbins crawl through actual sewage, so what was it?
It was chocolate syrup! That's right, Shawshank's producers used chocolate as a substitute for excrement in the scene where Andy escapes prison – a much better alternative by anyone's standards. We're not sure if they just used plain old water for liquids, but if the use of confectionery is anything to by, we wouldn't be surprised if Frank Darabont decided to use some watered-down banana milkshake to simulate urine. That explains why offenders always try to escape prison then; they don't want to get away, they just want to satisfy their sweet tooth.
And now to remarkable things you didn't know about…
Remarkable Stories about Morgan Freeman

Love and Respect to Morgan Freeman: With an authoritative voice and calm demeanor, this ever popular American actor has grown into one of the most respected figures in modern US cinema. Freeman was born in June 1937 in Memphis, Tennessee, which means that his 80th birthday is due in 2017.
He started as an Airforce mechanic! A much younger Morgan has considered joining the Air Force to become a fighter pilot. He didn't and instead worked as a mechanic in the US Air Force. In 1959 he arrived to Los Angeles and his first job was as a clerk typist. Lucky for us, eventually he went into acting. But he did forget that early dream and recently has earned a private pilot license.
Just Lucky? Morgan Freeman is often called the greatest living actor in film, a title he humbly waves off and says he is just "lucky."
Can you guess who's next?
Remarkable Stories about Tim Robbins

Love and Respect to Tim Robbins: Born in West Covina, California in 1958, raised in New York City, Tim Robbins studied drama at UCLA, where he graduated with honors in 1981. He starred in many movies, including Mystic River (2003), War of the Worlds (2005), and lately in the hilarious TV series The Brink with Jack Black. Apparently, Robbins had "discovered" Jack Black, having given him his first film role in Bob Roberts (1992). The two remain good friends today and even before The Brink, the two he has appeared in 3 films toether.
Two Inches on Morgan! Robbins is very tall for an actor. Towering to 6′ 5″ (1.96 m), he once referred to Morgan Freeman and said: "I actually have a couple of inches on Morgan, and I won't say where. Ha, ha! It's true, there aren't many actors as tall as me. So it's great when you do meet one who is. It's great to look someone in the eye, rather than getting a little neck ache."
One more thing you probably didn't know: Robbins was in a relationship with Susan Sarandon for many years, from 1988 through 2009. Together they have two sons.
And now… Who's next?
Remarkable Stories about Author Stephen King

Personal mystery story: Stephen King was born on September 21, 1947, in Portland. He has an older brother, David. The Kings were a typical family until one night, his father said he was stepping out for cigarettes and was never heard from again. This was a first personal mystery, probably leading to many suspense stories he would write over the years.
Fruitful career that started at the cleaners: King used to work for a dry cleaner before publishing his first novel. Since then, King has had numerous short stories and novels published and movies made from his work. He has been called the "Master of Horror". His books have been translated into 33 different languages, published in over 35 different countries. There are over 300 million copies of his novels in publication.
Another personal scare: In June 1999 King was severely injured in an accident, he was walking alongside a highway and was hit by a car, that left him in critical condition with injuries to his lung, broken ribs, a broken leg and a severely fractured hip. After three weeks of operations, he was released from the hospital. Then, newspapers reported that he has bought the van that hit him and planned to hammer it to pieces on the anniversary of the accident.
And now, Scroll down for… the director!
Remarkable Stories about Director Frank Darabont

Tough early years: Three-time Oscar nominee Frank Darabont was born in a refugee camp in 1959 in Montbeliard, France, the son of Hungarian parents who had fled Budapest during the failed 1956 Hungarian revolution. Brought to America as an infant, he settled with his family in Los Angeles and attended Hollywood High School. His first job in movies was as a production assistant on the 1981 low-budget film, Hell Night (1981).
Amazing professional beginning: The Shawshank Redemption was his first full feature film for which he had also written the remarkable script. Darabont is one of only six filmmakers in history with the unique distinction of having his first two feature films receive nominations for the Best Picture Academy Award: 1994's The Shawshank Redemption (1994) (with a total of seven nominations) and 1999's The Green Mile (1999) (four nominations).
Friendship Bonus: Darabont is good friends with Stephen King. This helped in buying the rights for the original Shawshank Redemption novella from Kink for only $5,000. And if you've been reading carefully, you already know that this check was never cashed.
The Shawshank Redemption 20th Anniversary Video: It's All About The Script
Find out what drew the cast of The Shawshank Redemption to the film. Moderated by Max Brooks, featuring director Frank Darabont and actors Morgan Freeman and Tim Robbins. Filmed at the Academy's Samuel Goldwyn Theater on November 18, 2014. Click to play:

What's next?… Scroll down for the rare deleted scenes…!
Rare Deleted Scenes from Shawshank Redemption
Click play and dive deep behind the scenes… A must view for every true fan.
Almost done… Scroll down for the ending scene!
The Shawshank Redemption: Ending Scene
This has been my own personal tribute to the best movie ever. If you enjoyed it even a little bit, I kindly ask that you click share on Facebook as a thank you.
And now, just before we say goodbye, lean back and enjoy the last 5 minutes of the movie. Brilliant.

Can you please share?
If you liked this post, I'm sure your friends would appreciate it as well. I worked hard on research, writing, images and editing and the truth is that I only earn from sponsors. If you'd like to say thanks, I would highly appreciate it if you could simply share on Facebook.
How simple is it to share? Just click on the blue share button here below (don't worry, you will be able to see how it looks first):
Thank you!
More from Briff.me
Assuming that you're a real fan of epic movies, don't miss this exclusive post featuring Titanic Revealed: Surprising Facts and Behind the Scenes Photos.
This original post about the secrets and facts of The Shawshank Redemption was curated and edited with the help of Google. Here at Briff.me, knowing that our precious time together on Earth is waaay too short for a long feed, we bring you the best of the best, like this special briff about The Shawshank Redemption secrets and facts. If you want to get more posts like this, click like on the Briff.me Facebook page.