Audrey Hepburn plays a delightfully quirky (call?) girl with a heart of gold in this classic from the '60s. Most of us have had a Breakfast at Tiffany's poster of Audrey Hepburn as Holly Golightly displayed in our rooms at one point, and she is considered a style icon for her charming demeanor and classic, timeless fashion sense.
The movie has delighted many since it got released in 1961, cementing its spot on the most iconic movies of all time list. Here are some of the best bits of trivia we could find about this epic tale!
Truman Capote wrote the book, and had it turned into a movie. He wanted Marilyn Monroe to play Holly Golightly! Historian and writer Sam Wasson said, "Another thing you may not know: Marilyn didn't take the part in part because Paula Strasberg, her advisor and acting coach, said she should not be playing a lady of the evening."
Capote, on his end, was miffed by this decision, saying: "Paramount double-crossed me in every way and cast Audrey." We can't picture anyone else but Audrey in this role!
Why did she almost turn down the role?
Audrey Hepburn, however, almost turned down the role! "It's very difficult and I didn't think I was right for it," Hepburn told The New York Times. "I've had very little experience, really, and I have no technique for doing things I'm unsuited to. I have to operate entirely on instinct. It was Blake Edwards who finally persuaded me. He, at least, is perfectly cast as a director, and I discovered his approach emphasizes the same sort of spontaneity as my own."
What did the composer of 'Moon River' think of the way it was sung in the movie?
In one of the most charming scenes of the movie, Audrey Hepburn sings 'Moon River' on her porch. Henry Mancini wrote the song for her, and has said that while many versions have been recorded, hers was the best.
What cringeworthy scene does one actor wish he could take back?
Things were certainly different in the '60s. Actor Mickey Rooney played the Japanese photographer Mr. Yunioshi. "Looking back," said director Blake Edwards, "I wish I'd never have done it."
Mickey Rooney says, "I was downright ashamed of my role in Breakfast at Tiffany's…and I don't think the director, Blake Edwards, was very proud of it either."
Notice this about the couch?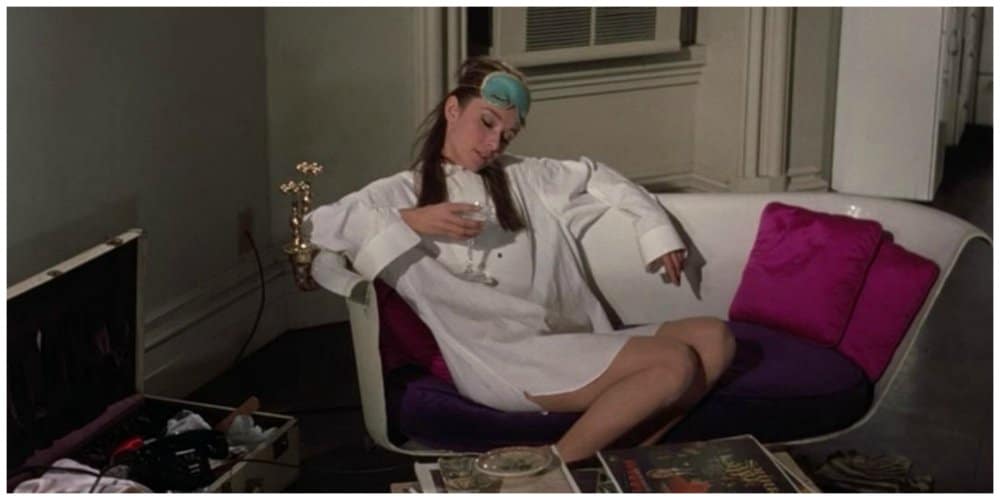 Did you notice? In the apartment, Holly's couch is actually a bathtub sawed in half and lined with plush cushions! We like her style.
What made the opening scene hard to film?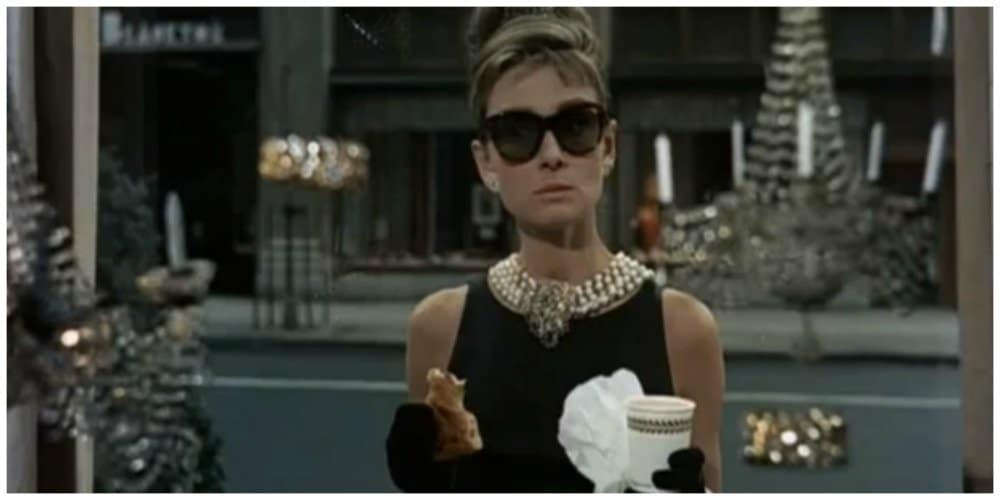 Audrey Hepburn's character Holly Golightly may have loved window-shopping at Tiffany's with a coffee and pastry, but Hepburn herself hated Danish pastries, making the scene a bit annoying to film for her!
Also, when filming the scene, hundreds of on-lookers had gathered, distracting Hepburn, making the scene take even longer to film.
Who did Capote base his main character on?
So does Holly Golightly exist in real life? The character may have inspired legions of rom-com fantasies, influenced women's fashion choices, and created the manic pixie dream girl, but it looks like Truman Capote created her from scratch.
Many women were cited as potential inspirations for the character – Gloria Vanderbilt, Oona Chaplin, writer/actress Carol Grace, writer Maeve Brennan and model Suzy Parker – but Capote never confirmed any of them!
Why did Holly appear in one scene wearing only a towel for a dress?
In the movie, Holly attends a party wearing a dress made of a towel. It's not explained why she does this in the movie, due to a cut scene. In reality, the beginning of the scene had her taking a bath when a party "broke out" in her house. She rushed to join the party and was forced to improvise a gown.
How much did Audrey Hepburn net for the role?
Audrey Hepburn netted a cool $750,000 for the role. Adjusted for inflation, that's almost $6 million in today's dollars! That sum made her the second hightest-paid actress at the time, after Elizabeth Taylor.

Today, leading ladies regularly command salaries of that caliber, or even more.
What's the story behind the iconic little black dress?
No woman's closet is complete without a perfect little black dress. In fact, that concept got its debut in this movie. Coco Chanel had designed her version of the LBD before the film came out, but the French fashion house Givenchy designed the dress Holly wears in the movie and catapulted that look into fashion notoriety.
After Hepburn's death in 1993, Givenchy donated the black satin gown to City of Joy Aid, and in 2006 the dress was auctioned off at Christie's for more than $900,000.
How much did her apartment get sold for?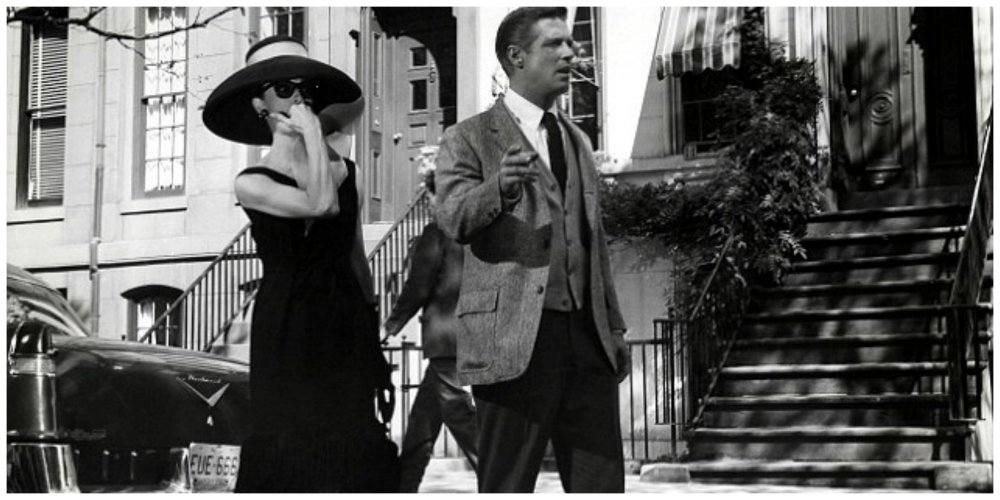 Another thing that was sold off was the apartment. While the interiors were filmed at a Paramount sound stage, the facade was really in New York, on East Seventy-first Street in Manhattan. It was listed at $5.85 million dollars!
We bet you didn't know this about Audrey Hepburn!
Audrey Hepburn is very well known for this role, but did you know she did incredible humanitarian work as well? She was a UNICEF ambassador who went on humanitarian missions to Ethiopia, brought attention to various causes in Canada and America.
She spearheaded many projects, traveling to Somalia, Kenya, the United Kingdom, Switzerland, France and the United States. She received the United States' highest civilian award, the Presidential Medal of Freedom, in December 1992.
What could she not do, though?
She couldn't whistle! In order to make the scene where she hails a cab seem more realistic, they had to dub the whistle in. She attempted to learn how to whistle with two fingers but it was too challenging!
What did Paramount Pictures want to remove from the movie?
Paramount Pictures wanted to remove 'Moon River' from the movie. Executive Martin Rackin apparently said he wanted to cut the song at an initial screening of the movie, to which Audrey Hepburn allegedly exclaimed, 'Over my dead body!' It ended up winning the Academy Award for Best Original Song.
Who was an unwelcome addition to the cast?
No one really wanted George Peppard to play Paul! Director Blake Edwards apparently dropped to his knees and begged producers not to bring Peppard on screen, preferring Steve McQueen (who, sadly, was unavailable due to prior commitments).
Hepburn wasn't a fan of Peppard either, finding that he over-analyzed things to a fault. However, over the course of filming, they developed a friendship and remained close until Hepburn's death.
What did Hepburn say was the worst part of filming?
Audrey Hepburn said that throwing the cat into the rain was one of the most distasteful things she'd ever done.
The cat who played Cat was called "Orangey" and appeared in many films in the 50's and 60's. He doesn't have the greatest credentials, however – one studio executive called him the meanest cat he'd ever worked with.
Get yourself a pair of these sunglasses, stat!
For some reason, everyone thinks that Holly is wearing Ray-Bans in the opening scene. In fact, they're made by Oliver Goldsmith. In 2011 – the 50th anniversary of the movie – he re-released them. They sell for $440!
How old was Holly supposed to be?
Audrey Hepburn was 31 at the time of filming. However, her character is meant to be 19 years old!
Why was she self-conscious about the role?
Despite performing her part beautifully, Audrey Hepburn was a bit self-conscious about the role. This was mainly because Truman Capote wanted Marilyn Monroe to play the main role, and was quite outwardly disappointed that she wasn't in it.
Because of that, Hepburn felt mis-cast and uncomfortable when Capote was on set.
What was radical about the movie at the time?
Holly Golightly in the movie was one of the first on-screen depictions of a fun party girl at the time – not tied down by a man, living alone, and possibly a call girl – but her book version was even more wild! In the book, she was bisexual and loved marijuana.
What precautions did Tiffany's take for filming?
The movie was the first time Tiffany's had been used as a film location. They were apparently "grateful for the kind words and free publicity." During filming, they assembled a huge staff – around 40 guards and sales clerks – to make sure no jewels were pilfered.
How did the production get their hands on a ring for the ring-engraving scene?
In one charming scene, Holly and Paul head to Tiffany's with the goal of spending $10. All they can afford to do is engrave a Cracker Jack ring. Production had to go through over 200 bags of Cracker Jacks in order to find a ring – apparently the gift in that time was a whistle and not a ring!
How did the book ending differ from the movie?
The movie ends with a classic Hollywood kiss and the understanding that it all ends up happily ever after. In the book, the ending is a bit more ambiguous. We can see Holly deciding to get married, or deciding to travel Africa for years.
The movie also had an alternate ending – one where they rescue Cat and walk down the street together, with no romantic overtones.
Finally, check out this next short documentary about the movie!
Check out this documentary about the movie and Audrey Hepburn!


More From Briff.me:

Here at Briff.me, knowing that our precious time together on Earth is waaay too short for a long feed, we bring you the best of the best, like this special briff about the best stories about Breakfast at Tiffany's. If you want to get more posts like this, click like on the Briff.me Facebook page.