Love The Hunger Games? Then you will love this article! It is full of fun facts and funny stories. Plus you really don't want to miss the great photos and the video at the end!
Did you know that she gave him a concussion? Jennifer Lawrence (Katniss) and Josh Hutcherson (Peeta) were goofing off during training, when Jennifer accidentally kicked Josh in the head.
She calls it the "perfect death blow kick to the temple. It was perfection."
Revenge – Hunger Games Style
Zombie on the toilet: To get back at Jennifer Lawrence for giving him a concussion, Josh Hutcherson (Peeta) took a gross rotting dummy and sat it on her toilet, holding the toilet paper.
It scared Jennifer so much that she claims it even made her pee a little.
Hunger Games v.s. Twilight
Jennifer Lawrence Could Have Been Bella! Did you know that Jennifer actually auditioned for the role of Bella, but lost out to Kristen Stewart?
It worked out well for Jennifer, however, since Hunger Games was also an enormous success and its one day ticket sales even broke the record that was  previously held by Twilight: Eclipse.
Katniss and the Swear Jar
Potty Mouth: A swear jar was used to improve the language used on the set of the Hunger Games. And according to the writer, Gary Ross, half of the money in the jar was put there by Jennifer Lawrence!
Stripping in the Elevator
A Show For the Guests: We all know the scene in the elevator where Johanna Mason (played by Jena Malone) strips in the elevator. According to Jena, the elevator they used was not closed for production, meaning that the door kept opening for random people in the middle of her strip!
Clumsy Clafin
He Kept Falling Down! Sam Clafin (Finnick) is apparently extremely clumsy. Jennifer Lawrence, Josh Hutcherson (Peeta) and Clafin all agree that he fell over at least once every scene and that an entire gag reel could be filled, just with shots of him falling over! At one point he even broke his finger!
Garlic Breath
Awkward Kissing: Liam Hemsworth (Gale) says that the kissing scenes between him and Jennifer Lawrence were really awkward. To make matters worse, he claims that she would purposely eat tuna or garlic right before they had to kiss!
Yells in the Shower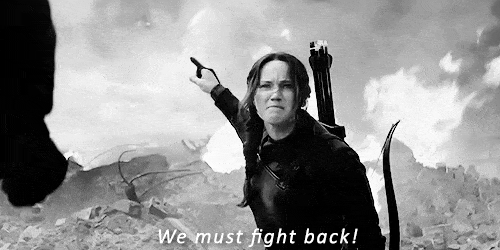 Jennifer Hates Singing: Even though Jennifer Lawrence (Katniss) really did sing "The Hanging Tree" (Mockingjay Part 1), she hated doing it. She claims to not even sing in the shower, and jokes that to compensate, she spends her showers yelling "at everybody who I've always been afraid to yell at."
Despite her distaste, "The Hanging Tree" went #1 on iTunes, worldwide.
She Really Shaved Her Head!
It Was Her Idea: Natalie Dormer (who plays Cressida) had no problem shaving her head for the part. Even though in the book, her character has a fully shaved head, Natalie wanted to do only the left half instead.
A House Down the Road
Wanted to Be Close: After winning the Hunger Games, Katniss and Peeta live as neighbours in houses made for the victors. Why shouldn't it be so in real life as well? Jennifer Lawrence and Josh Hutcherson became such good friends on set that Jennifer bought a house right down the street from him!
Like Actor, Like Character
He's a lot Like His Character: Haymitch isn't the only one with a tendency toward inebriation. Woody Harrelson who plays him, was once arrested for disorderly conduct after dancing in the street, stopping traffic, and punching a police officer!
Note: He has also spent several weeks living in a tent in Kenya, just to get away from everything!
Practical Joking
A Present for Katniss: Jeffrey Wright (who plays Beetee) played a joke on Jennifer Lawrence by giving her a Tiffany's jewelry box. Jennifer recalls being so excited and exclaiming "oh my god, you totally didn't have to do this." But when she opened the box, instead of jewelry, a hundred crickets jumped out at her. 
She screamed and Josh (Peeta) was put on cricket cleaning duty.
Jennifer Lawrence on the Hunt
She'll Protect Her Things! Jennifer Lawrence (Katniss) once came home and heard men in her house. Thinking they were burglars, she grabbed her bow, loaded it with an arrow, and went in to stop them.
It turned out to just be some workers, all of whom thought it was hilarious to have Katniss coming after them with her bow and arrow!
Gale Could Have Been Thor
His Older Brother is Thor: Liam Hemsworth (Gale) is the younger brother of Chris Hemsworth, who plays Thor in the Marvel movies. In fact, Liam himself was considered for the role of Thor, but eventually lost out to Chris.
Her Characters Always Eat Squirrels
She Had to Skin Them: Just two years before the first Hunger Games movie, Jennifer Lawrence played another character (in Winter's Bone), that feeds her impoverished family by catching squirrels. She even learned to skin them for the role.
Unlike Jennifer, not everyone on the set would have been willing to do this. Ever wonder why Haymitch is only ever seen eating vegetables or deserts? His actor, Woody Harrelson, is vegetarian (as is Cinna's actor, Lenny Kravitz)
There Could Be Another Hunger Games!
Josh Let it Slip! According to Josh Hutcherson (Peeta) there could be another Hunger Games movie; either a sequel or a prequel. But he's not allowed to talk about it.
Tell it to my Oscar
She Didn't Even Keep Her Oscar! When Jennifer Lawrence won an Oscar for her role in Silver Linings Playbook, she felt too weird to have it in her own house. So she gave it to her parents to keep instead.
That didn't keep her from using it to bug Josh Hutcherson (Peeta), however. Whenever Josh told her that she should do something differently, she would say "oh really, do you want to tell that to my Oscar?"
Katpiss Neverclean
She Was Just a Bit Dirty: Jennifer Lawrence earned the nickname Katpiss Neverclean because she would sometimes show up to the set, still covered in dirt and blood makeup from the day before.
She earned a similar reputation on the set of American Hustle, where the wardrobe department had to make several identical outfits for her because she kept staining them with Doritos chips!
Hunger Game of Thrones
Brienne of Tarth as Commander Lyme: It's hard to miss Gwendoline Christie (Brienne of Tarth in Game of Thrones) when she makes a brief appearance in the newest Hunger Games movie.
Margaery Tyrell as Cressida: A bigger part (that of Cressida) is played by Natalie Dormer, who is also Margaery from Game of Thrones.
Note: In her real life, Natalie loves fencing and is even a member of the London Fencing Academy.
Cato – The Bad Guy From District 2
He Could Have Been Peeta! Cato's actor, Alexander Ludwig, actually originally auditioned for the role of Peeta. It seems he was meant to play Cato, however. After all his name (Ludwig) means famous warrior, and that is what Cato was!
Thresh – The Newbee
Brand New Actor: Dayo Okeniyi (Thresh) had only just signed up at his acting agency when he got the call to audition for Hunger Games. Before that he had only ever been in a couple of short films and played one small unnamed character in an obscure tv movie.
Clove – She Loves Hamsters
She Brought Lola Everywhere: Clove's actress, Isabelle Fuhrman, had a Hamster named Lola that she brought everywhere with her, even to the Sundance Film Festival!
She Was Considered for Katniss: Isabelle was considered for the parts of both Katniss and Rue but was too young for one and too old for the other. She was a huge fan of the books, however, and eventually convinced the director that she would be right for the part of Clove.
Rue – Her Dream Came True
She Felt She Was Like Rue: When Amanda Stenberg (Rue) read the first Hunger Games novel, she told her mom that she really identified with the Rue character. Then, a few months later she actually got the part of Rue!
Finnick – He Doesn't Like His Face
Won't Watch Himself: Sam Clafin (Finnick) doesn't like to watch the movies he's been in. He says "I actually don't like looking at my face, so I don't like watching myself on screen. It's an insecurity thing."
Johanna Mason – She Controls Her Career
Lawsuit Against Mother: Jena Malone (Johanna) actually filed a lawsuit against her mother for mismanagement of the money she earned as an actress. And won. Legally, her mother can no longer interfere at all with her career or earnings.
Did you know both Lindsey Lohan and Kristen Bell also wanted to play Johanna?
There Was an Alternate Ending!
Spoiler Alert!!! Skip this paragraph if you haven't finished the series. Apparently there was an alternate ending in the early scripts for the final movie, where Peeta is killed by President Snow and Katniss and Gale end up together!
She's a Blonde
They all Switched Hair Colours! In reality Jennifer Lawrence and Liam Hemsworth (Gale) are blonde, whereas Josh Hutcherson (Peeta) is brown-haired. They each had to dye their hair for the movie.
It Damaged Her Hair: Jennifer Lawrence's hair was so damaged from the dye that she cut it short. As a result, she had to wear a wig in the final two Hunger Games movies.
Don't Stop Now! We are almost at the video!
Bathroom Humour
Jennifer Gives Wet Willies: In addition to finding fart throwing hilarious, Jennifer Lawrence is a fan of many forms of childish humour. When Josh Hutcherson was sitting in front of her at the premiere, she couldn't keep herself from bugging him with the occasional wet willy. She says to him after "you were in the row right in front of me, what was I supposed to do, leave you alone?!"
Jennifer Lawrence and Josh Hutcherson are a hilarious pair. They would laugh and joke together constantly up to the moment when the camera would role.
The Kiss at the End
It Was Not Scripted! At the end of the movie Haymitch surprises everyone, including the filmmakers, by kissing Effie Trinket on the mouth. This was not a part of the script. Instead, Woody Harrelson decided to do it just for fun!
So, Josh Hutcherson was right, there is a fifth movie coming! Kind of… This time Katniss is going after Jon Snow from Game of Thrones! Enjoy this funny spoof trailer. And Go Team Katniss!
Can you please share?
If you liked this post, I'm sure your friends would appreciate it as well. I worked hard on research, writing, images and editing and the truth is that I only earn from sponsors. If you'd like to say thanks, I would highly appreciate it if you could simply share on Facebook.
How simple is it to share? Just click on the blue share button here below (don't worry, you will be able to see how it looks first):
More From Briff.me
Here at Briff.me, knowing that our precious time together on Earth is waaay too short for a long feed, we bring you the best of the best, like this special briff about the greatest female characters of all time. If you want to get more posts like this, click like on the Briff.me Facebook page.