Animals Riding Animals
This photo of a Weasel riding on a Green Woodpecker in mid air is spreading all over the Web. Wow. Some claim that this in fact an attack. I prefer looking at is a great friendship. Art is open to our understanding. And nature is art.
Photographer: Martin Le-May (c) 2015
28 Photos of Animals Riding Animals
This photo reminded us that this is not the first time that we see animals riding on top of other animals. Here are 27 additional photos proving that natural rides can take many shapes and forms. Some of the photos are an animated GIF, so be patient. Don't miss my personal favorite of the dog riding a swimming dolphin, saved for last. Enjoy!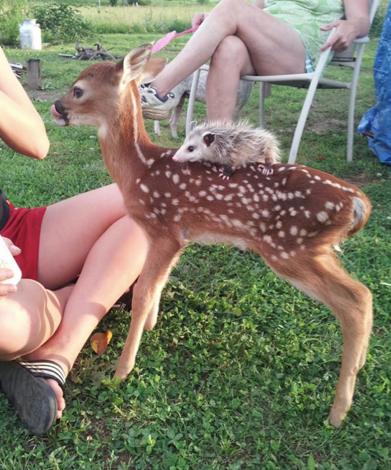 My personal favorite – an animated GIF of a dog riding on top of a swimming dolphin…
More from Briff.me
This collection of animals riding animals photos was curated and edited with the help of Google. Some of these brilliant photos are shared all around the social web. If you find your very own pet or animal in a photo or just want to add specific credit – sure! Simply drop us a line and we'll be happy to add the details.
Don't miss another super cute from the wild world of nature with amazing photos of animals waving goodbye.
In case this post got you a little too sad and you need a real laugh, check out this hilarious video of a BBC reporter who gets high on TV. Very funny!
Here at Briff.me, knowing that our precious time together on Earth is waaay too short for a long feed, we bring you the best of the best, like this special briff about animals riding animals. If you want to get more posts like this, click like on the Briff.me Facebook page.
Liked this Briff? Click a button to Share…