Who doesn't love travel? Whether you've been lucky enough to strap a backpack to you and lace up your hiking boots, or if you love to daydream about your eventual round-the-world jaunt, most of us hope to see the world soon. There are some classics that many people talk about seeing – Paris, Rome, Rio – but many travelers are turning their sights on lesser-known destinations.
Here are some of the best off the beaten track travel destinations we could find. Starting in Europe, we've got…
…Moldova.
Sandwiched between Romania and Ukraine, this is pretty much the least-visited place in Eastern Europe. When you consider its beautiful parks, amazing wine industry, and gorgeous nature, we don't know why.
Tip: Visit Chişinău, the capital city, much of which was destroyed during the War. The center is still beautiful, so enjoy wandering around there! After discovering the capital, go to the famous Cave Monastery and see how a handful of monks are slowly rebuilding the area!
Next up, a man-made lake and glorious hidden villages in Albania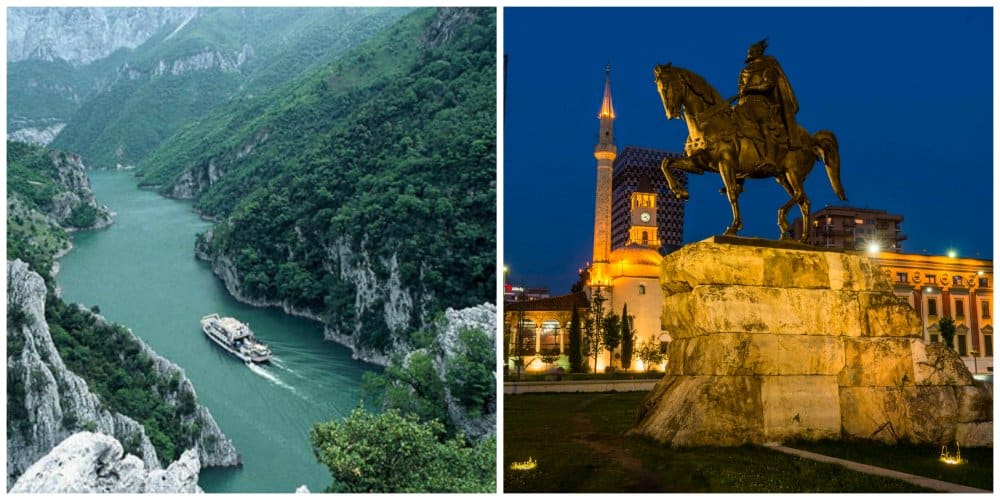 Albania might be starting to gain traction as a tourist destination, but is still a pretty well-kept secret. With its dramatic mountain ranges, amazing beaches, and delicious cuisine, it's taking off in the tourism world. However, leave the bright capital of Tirana and things slow down.
Tip: Check out the dramatic Lake Komani, a man-made lake built in the 1970s. You can sail between high mountains full of hidden villages without seeing a person.
Try Azerbaijan for some of the best off the beaten track travel around!
Azerbaijan is technically in Asia, but feels like it's in its own world – not European or Asian. Sitting near Armenia, Georgia, and the Caspian Sea, this corner of the world feels exotic and far-away to most travelers. Azerbaijan has moved firmly and decisively into the 21st century, with a thriving economy, modern capital city, and growing tourism sector.
Tip: Make sure to visit Baku, the vibrant capital, and if you're into winter sports, check out the Shahdag Mountain Resort, which boasts excellent skiing. Or, visit the amazing 15th century Palace of the Shirvanshahs.
This quiet country feels like the even more laid-back younger Swiss sister.
Slovenia is the European version of a flyover state (or a drive-over country) as tourists head to flashier destinations in Croatia or Italy. However, we think you should definitely add a stop there! While it has much less coast than Croatia, the Romans made their stops here and left behind architectural gems such as the Venetian jewel of Piran. Plus, there's an amazing wine scene here to quench even the thirstiest traveler.
Tip: Visit Kobarid. This picture-perfect town is surrounded by rolling hills, archaeological marvels, and, interestingly, many gourmet restaurants.
We bet you have Greece on your bucket list – do it the off-the-beaten-track way!
Greece is a common travel goal, but when we talk about visiting, we mean getting off the popular islands. Athens, Santorini, and Mykonos are popular for a reason, but there are hundreds of other tiny islands dotting the sea, each one a bit different, and each absolutely beautiful.
As you island hop, you'll be amazed at how each island is at once distinctly Greek and also amazingly unique.
Tip: Rent a Turkish boat called a gulet, and use it to travel from island to island!
Central Asia is totally under the radar, and totally worth it!
Central Asia refers to the area that includes the "Stans" – Afghanistan, Kazakhstan, Kyrgyzstan, Tajikistan, Turkmenistan, and Uzbekistan. Some parts of Iran, Mongolia, China, Russia, and Pakistan are considered to be part of Central Asia as well.
Many of these countries can be intimidating, and we don't recommend traveling through Afghanistan these days. These are places to go with guides – perhaps consider joining a tour group – because while the area is hugely culturally rich, governments can make travel slightly complicated.
Tip: Join a tour group and make sure you get to see Uzbekistan for its incredible architecture and unparalleled natural diversity.
Don't shy away from the Middle East – it's full of travel gems!
The Middle East can be a bit intimidating, as much of it is constantly embroiled in conflict. However, there are some places that can provide an amazing experience without putting you in danger.
Israel is complex, but is very safe for tourists. While small, there are some areas you can go to avoid the touristy crowds (though a few days in Jerusalem and Tel Aviv are necessary.) Check out the north of the country, where wineries abound, or head to the Negev desert for some amazing hiking where you're unlikely to see another soul for miles.
Tip: Head out with a local hostel – most will let you join them as they embark on day trips, even if you aren't sleeping there.
Scuba diving more your thing? Egypt's got you covered.
A bit south of Israel is the Egyptian Sinai Desert. More or less controlled by Bedouin families, this area boasts incredible beaches, a laid-back vibe, and world-class snorkeling. Check out Nuweiba, on the eastern part of the peninsula, on the coast of the Gulf of Aqaba. While not flashy or touristy like the other beaches in the area, in-the-know travelers love it for its relaxing atmosphere and unbeatable swimming.
Tip: Find a trustworthy guide to take you on a hike to the Colored Canyons in the Sinai desert!
Want to head on a Biblical hike? Check out Jordan.
Jordan is an excellent place for an intrepid explorer to head to. Many of you know about Petra already (thanks, Indiana Jones!) but did you know about all the amazing tours in the country? You can take a five day tour through Northern Jordan, or a biking tour from Madaba to the Herodian palace at Mukawir, which is near the Dead Sea.
Tip: Don't miss the warm waters in the south, which also boast spectacular diving!
Want to go to Africa, but don't know where to start?
Africa is an enormous continent, a fact that many of us forget, tending to lump it all into one. While some countries in the African continent are best avoided currently, there are many that are safe, beautiful, and exciting. The enormity of Africa means that there are plenty of places which are set up for tourism, but are so huge that you'll rarely see another group.
Namibia is our first stop, for its under-the-radar safari destinations, desolate but beautiful deserts, and beautiful (if forbidding) coastline. The countries German heritage can be felt with its annual Oktoberfest, which is not to be missed!
Tip: Take a guided, five-day hike through the Fish River Canyon National Park – you won't regret it.
This next country has amazing cultural offerings.
Tanzania has always been one of the more peaceful African nations, and while it has some incredible things to see – Serengeti, Ngorongoro Crater, Selous Game Reserve, Zanzibar, and Kilimanjaro among them – there are some unbelievable things to see that most tourists tend to skip. Immerse yourself in Maasai culture, visit a volcanic crater, and see an old gold-trading port.
Tip: Visit the Mahale National Park for one of Africa's best chimp-viewing options!
Try a new game reserve!
When people think of South African safaris, Kruger National Park is what instantly pops into mind – for good reason, as this is one of the largest national parks in the world. However, why not check out Thornybush Game Reserve for a more unique experience? Its guides are highly qualified, and – bonus – it's one of the only places to see black rhinos in the world!
Tip: The Royal Malawene Lodge is beautiful, and, after a long day of exploring the plains, you can relax in its excellent spa.
Ethiopia is another exciting African destination!
Try a visit to Ethiopia! In the northern part of the African continent, this country has a rich history, friendly people, and great food. The capital, Addis Ababa, is vibrant and modern, and boasts waterfalls on the river Nile, dry desert scapes, and lush forested areas.
Tip: If you have a few weeks, make the loop around the forested mountains around Nekemte and Jimma to the remote river port at Gambella.
Botswana is our favorite – find out why, next!
Botswana offers a great deal to the traveler. Chobe National Park is a treat, giving you the experience of both a dry and wet safari, The Big Five, and its proximity to Zambia and Zimbabwe means that day trips are an option.
However, once you've gone to a safari or two and seen Victoria Falls, it's time to discover some of the less-visited attractions. Take a convoy into the Kalahari Desert and marvel at one of the last untouched areas of Africa.
Tip: Make sure to visit Drotsky's Caves – these easy-to-miss labyrinthine caves are filled with some of the most amazing stalagmite and stalactite formations you can ever hope to see.
India is our next stop. Find out how to beat the crowds, next!
India is a travelers dream. This enormous country boasts about 1 billion people, numerous industries, cultures, and languages. Its status as a former British colony means that many of the people speak impeccable English, and there is a useful train system already in place.
While it is hard to pinpoint the best out-of-the-way areas to go to, we think that the Pichavaram mangroves forest in Tamil Nadu – the second-largest in the world!  – is worth a visit.
Tip: Buy a train ticket and go wherever the wind takes you. Get off at the most interesting stop, get out, explore, and see if wherever you've landed tickles your fancy!
South of India is our next suggestion – don't miss it!
Sri Lanka is a tiny island nation just south of India. Formerly known as Ceylon, this diverse area offers the tourist a bang for their buck! While tourism has increased in recent years, it is still less-visited than its flashier upstairs neighbor, India. However, we think you should go to see the lush rainforests, ancient Buddhist ruins, and endless beaches.
Tip: It's really hot here! Come prepared with sun hats, the strongest sunscreen you can get, and be sure to spend the hottest midday hours in a cool spot.
Where east meets west, Turkey is a great destination.
Turkey is an exciting blend of East and West, with the river Bosphorous literally dividing between the European and Asian continent. Istanbul, Ankara, and Bodrum are well-known destinations, but we think you should check out some lesser-known spots, such as Urla, a relaxed coastal town.
Tip: Did you know there's a Polish village in Turkey? Near Istanbul is the city of Polonezköy, formerly called Adampol, where Polish refugees escaped in 1840 and created a distinctly Polish city. It's perfect for romantic getaways, and to be reminded that the world is much smaller than we think it is.
Thailand offers little known travel areas, too!
Thailand, like India, is constantly full of travelers, and much of the most beautiful spots have turned, by necessity, into tourist spots. Still, it is worth it to get out and see how the average Thai person lives his or her life.
Tip: Grab a motorbike and head for the north-east. Its wealth of Buddhist monks, beautiful scenery, and tranquil living will wow you.
If island hopping is your dream
The Philippines doesn't see the amounts of tourism that other southeast Asian countries do on the regular, but still has some touristy spots – Boracay, Cebu, Sagada, and Palawan. However, there is a lot more to this country than those few places! There are some amazing islands you must check out!
Tip: Head to Siquijor, also known as Isla del Fuego, or Island of Fire (due to the swarms of fireflies that come out at night.) Home to many old churches, you can get your historical, cultural, and adventure shot in one go! Try cliff jumping at Salagdoong Beach.
This next country has tons to do
China. For most of us that means Beijing, Hong Kong, and Shanghai, but this huge country has way more to offer than just those big three. We think you should head to Sichuan for its pandas, and adventure options. Aside from the adorable panda reserve, you must head to the northern part, near Tibet, where you can take a yak ride!
Tip: For views that might appear to be Photoshopped but are 100% real, visit Jiuzhaigou. You won't regret it.
Japan isn't just about sushi!
Japan has a lot to offer – from Tokyo, to Kyoto, to Osaka, from mountains to coasts, there are a wealth of options here. We think you should head to Okinawa and discover its beautiful islands. A sub-tropical zone, you can experience beauty all year round, and island hop around the over 160 islands.
Tip: This is a tropical area with more than just flowers and beautiful beaches – you can head to the jungle and see new and exciting things you've never experienced in your life!
The Land Down Under has exciting travel opportunities!
Tasmania is one of the least explored states in Australia for some reason. When we think about the incredible wildlife, beaches, and national parks, we really can't understand why. If you manage to get to the land down under, take it a step further and spend a few weeks exploring Tasmania. Head to the lush forests and parks, beaches and caves.
Tip: Some of the most spectacular sites are only accessible by foot – a challenge we're excited to try. Head to the remote mining town of Corinna, now in a new incarnation as an eco-tourism mecca.
Next up, South America!
South America is a huge continent with a ton to offer. Here are just a few ideas.
Torres del Paine National Park in southern Chile is an awe-inspiring national park. Surrounded by the granite pillars of Torres del Paine (Towers of Paine), it also offers clear blue lakes, lush hiking trails, and one radiant glacier.
Tip: Years of conservation has restored the park to an impressive amount of previously endangered animals, such as the ostrich-like rhea (known locally as the ñandú), Andean condor, flamingo and many other bird species.
More than just Machu Picchu!
Peru has always been a must for travel enthusiasts, with Machu Picchu eclipsing almost all other tourist destinations. We think you should go for the incredible food – seriously, is anything better than ceviche and purple potatoes? – but also to see the Sacred Valley. This offers more relics from the Incan times than any other area in South America.
Tip: Head to the coast for a road trip you won't regret!
Angel Falls in Venezuela will blow your mind!
Venezuela might be embroiled in some turmoil right now, but it also offers one of the most gorgeous waterfalls in the world – Angel Falls. The highest uninterrupted waterfalls in the world flow over beautiful red-rock mountains, and are surrounded by a luscious green forest.
Tip: You'll need to get deep into Canaima National Park to get to the falls, or, visit the other falls this park boasts. The only way to get into the park is by air travel, and a tour to the falls will take about 3 beautiful days.
See the glaciers!
Finally, don't forget that the tip of South America does get pretty close to Antarctica, meaning that there are some incredible glacier parks to see. In Argentina, head to Perito Moreno Glacier – easily accessible from El Calafate – and spend your time ice trekking and admiring the gorgeous views.
Tip: Book a tour via an Argentinian company – it's half the price of an American one!
We hope this inspires you to keep traveling!
Here at Briff.me, knowing that our precious time together on Earth is waaay too short for a long feed, we bring you the best of the best, like this special briff about the best off the beaten track places to travel. If you want to get more posts like this, click like on the Briff.me Facebook page.