Some Bears like human behavior a little too much
"These bears have become fed up with their bear's life."
We heard of birds that mimics our language. We witnessed monkeys acting similar like humans. Now it's the time for bears. Yes, bears! It seems that this cute little animal has fed up with their life and engaged themselves in a competition with the monkeys. Like our forefathers, the bear is also capable of acting like humans stirring fear, curiosity or wonder into us. Just have a look at these photos and GIFs of some of the human like bears.
1. What's the point of existence!
2. The water is cold.
3. Tetherball is fun.

4. Hurrah!
5. Oh! How badly I need to relax!
6. Oh God! Why did I do that!
7. No! It's your fault!
8. My boyfriend loves tanned skin.
9. Let's play Hide & Seek
10. Let's go to the playground, son!
11. Kung Fu Panda errs… bear!
12. Jet skiing is my favorite hobby.
13. It's the time to disco!
14. I work as a garbage collector.
15. I love bowling.
16. I do stretching to exercise.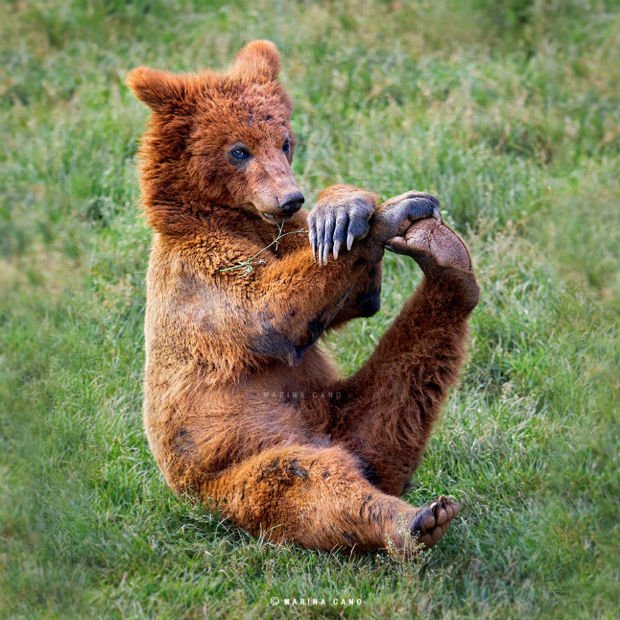 17. Tata! Goodbye!
This post was inspired by social2 Thanks!
More from Briff.me
Bears act like human and it's amazing. But can you imagine the animals being shocked. They shows hilarious expressions when they are shocked. See Shock – It looks a lot cuter in the animal's face
Bears act like human and animal gives shocking expressions. These are not the end. Briff.me have a special briff about animal hugs human which expresses the emotional value fulfilled by the animal. Sometimes it's better than human as they have pure heart with no complexity. Don't miss out Animal Hugs – sometimes it is better than the human ones
Here at Briff.me, knowing that our precious time together on Earth is waaay too short for a long feed, we bring you the best of the best, like this special briff about Bears like human. If you want to get more posts like this, click like on the Briff.me Facebook