Text Shortcut Pranks – Funniest Ever
It goes like this. You take your friend's or mom's phone and switch the text shortcut from a normal word to something completely different. The results are hilarious. These pranks bring out the best our inner kids all over again. I read, laughed. Then laughed even more. And now I'm going to mess around with someone myself… LOL!
Text Shortcut Prank Ideas – Go Get Them!
---
---
Prank explained: On his mom's phone, he replaced "clean your room" with "F*** her right in the Pu***y".
---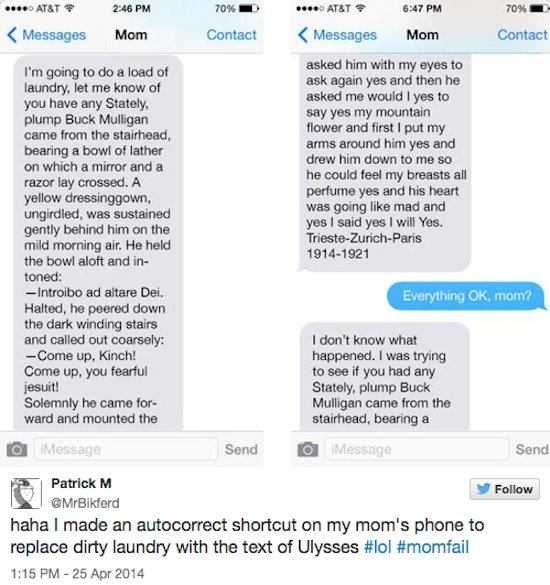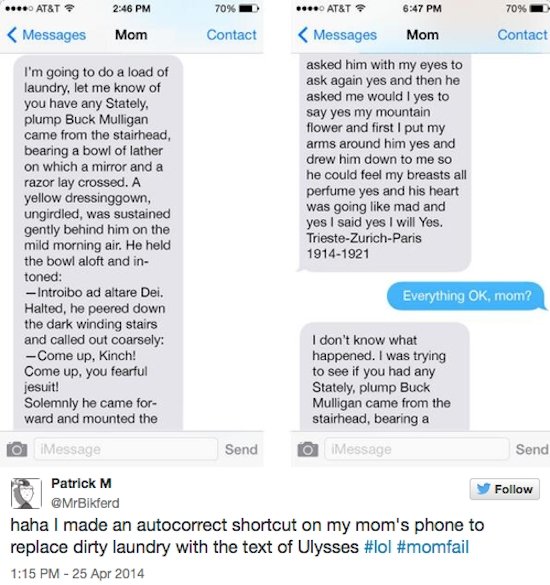 ---
---
---
---
---
---
---
---
---
More from Briff.me
This collection of the best ideas for text shortcut pranks was curated and edited from photos that were all over the web by… Wait, you won't believe this. Yes, Playboy! Finally I get to quote Playboy on something, and there's no nudity and no sex in it at all (link). Thanks guys. If you're off to try this prank yourself, don't forget to send us the results. Bottom line, your target needs to be someone with minimal technical understanding. Then, in the text shortcut settings, replace a few everyday words with something out of place. For example, replace OK with Only if you F*** me. Or… You know what, use your imagination.
Need another laugh? Don't go anywhere. Check out this exclusive collection of 25 Synchronized Swimming Funny Photos – guarantee to put a smile on your face.
Here at Briff.me, knowing that our precious time together on Earth is waaay too short for a long feed, we bring you the best of the best, like this special briff about text shortcut mobile pranks. If you want to get more posts like this, click like on the Briff.me Facebook page.
Liked this Briff? Click a button to Share…