Love The Wire? Then you will love this article! It is full of surprising stories and crazy facts from behind the scenes. Plus great photos and a hilarious video at the end. Enjoy!
Did you know that The Wire is based on truth? The creator of the show, David Simon, was a police reporter and he based the stories and characters in the series on real people and events that he witnessed.
Find Out the President's Favourite Character!
The President and The Wire
Obama Loves The Wire: President Obama says that The Wire is his all-time favourite show. And his favourite character? That would be Omar. He says that Omar's "not my favourite person, but he's a fascinating character."
Omar was also listed as #3 among Entertainment Weekly's "16 Ultimate TV Antiheroes."
Bubbles Got an Oscar? 
Bubbles and the Street Oscar
The Wire Didn't Do Well Initially: Despite rave reviews today, The Wire was not especially popular while it was on the air. It won no Emmy's and its viewers had actually decreased by the fifth season!
Bubbles Was Offered Drugs While Filming! Andre Royo (Bubbles) is proud of the fact that he was once approached by a Baltimore resident and offered heroin because he looked like he needed a fix. Royo calls the event his "street oscar."
Their Scars Are Real
He got Jumped! Both Michael Kenneth Williams (Omar) and Jamie Hector's (Marlo's) facial scars are real. Williams claims to have gotten his on his 25th birthday. He was arguing with a group of men in a bar and they jumped him. He says "they cut me with a razor from the top of my head to my neck. I nearly lost my life that night."
Who is Really the Star of The Wire?
Love Letter to Baltimore
Baltimore is the Star: Andre Royo (Bubbles) says there was no ego problems during filming because "everyone came on set and said this is about Baltimore. Baltimore is the Star."
Aiden Gillen (Councilman Tommy) says the Wire is bleak but it is "a love letter to Baltimore" just "one written in very strange and complex way."
Which Characters Were Based On Real People?
They Were Real People
Just about everyone in The Wire is based on either real criminals or real law enforcement officers. Including:
Bubbles was based on a real police informant called Possum: Possum was a Baltimore drug addict, with speech slurred even more than Bubbles. He had an incredible capacity to memorize faces and he even used the same hat method that is used in the series to identify criminals.
Avon Barksdale was based on the real drug kingpin Melvin Williams. Strangely Williams himself ended up being cast in the show as well, only as The Deacon!
Omar was based on several different Baltimore stickup men. One of which ends up playing one of the two men that are sent by Butchie to help Omar in Jail!
Quiz! Do You Know What Omar is Really Whistling?
A Hunting We Will Go
He Wasn't even Whistling! Michael Kenneth Williams (Omar) cannot whistle so what you actually hear is the whistle of Susan Allenback.
Even though the tune is often thought to be "The Farmer in the Dell," it is actually "A Hunting We Will Go."
Why Couldn't Kima Remember Her Lines?
She Held Up the Production
Childhood Trauma: Sonja Sohn (Kima) couldn't seem to remember her lines during the first season. Acting in The Wire brought up memories of growing up in the ghetto that made her extremely nervous.
Her Father Disapproved: Sohn isn't even Sonja's real last name. She took her mother's maiden name because her father was so against her acting.
What's Next? There Was Supposed to Be Another Season?
Season Six Discarded
A Season For Latinos! Briefly, the creators considered writing a sixth season of The Wire. It would have been about the Latino population of Baltimore. However, the writers felt they didn't know enough about it so the idea was scrapped.
See How You Can Tour The Wire!
A Google Earth Tour
The Locations Are Marked! On Google Earth you can take a tour of the primary shooting locations of The Wire. They have been marked by the fans!
Why They Thought McNulty's Audition Was Hilarious. 
McNulty's Weird Audition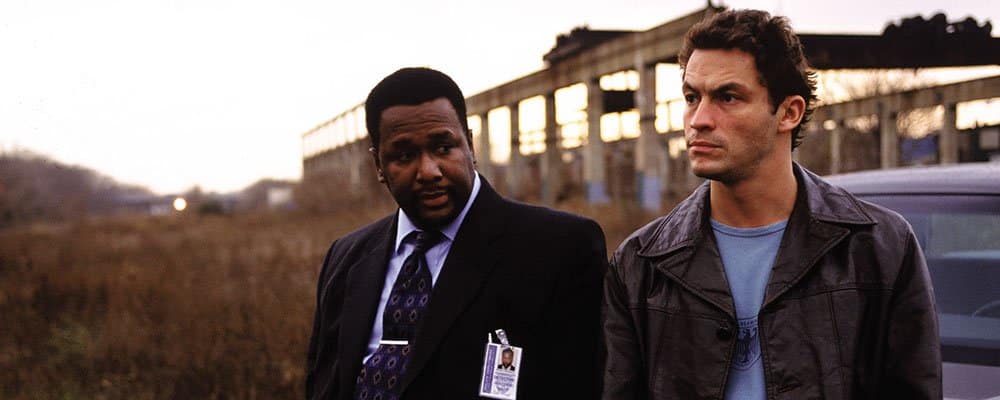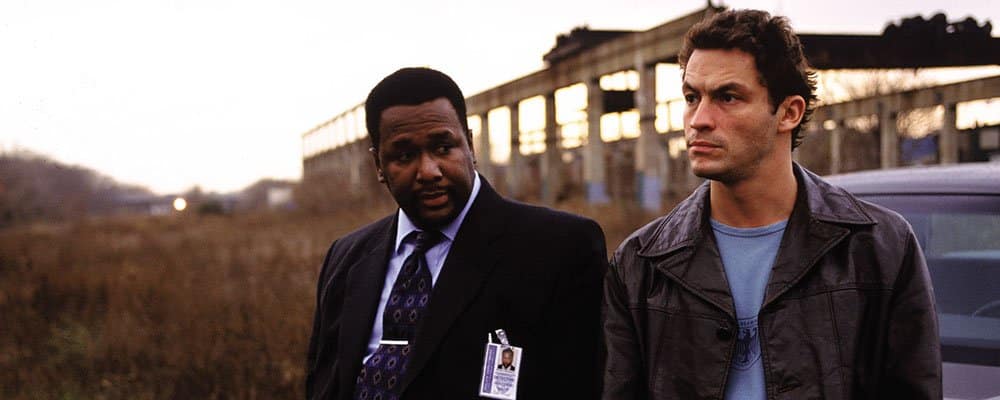 The Producers Though it was Weird! When Dominic West (McNulty) first auditioned to be on The Wire, he did it from home on tape. His girlfriend read the others character's lines but her English accent kept making him laugh. He ended up having to do his lines alone, leaving a pause when others were supposed to speak. 
The producers thought it was weird but funny and decided to give him a real audition.
How The Wire Scares Stephen King!
Snoop is Terrifying
The Most Terrifying Female Villain: That is what Stephen King says anyway. That Snoop is the "most terrifying female villain ever to appear in a television series."
Quiz! Do You Know Who is Actually British?
They Are British!
McNulty, He's So Very Posh: Dominic West (McNulty) is originally from England but moved to the states because he was tired of only ever being cast as a posh man in costume dramas.
He Pretends He Isn't British! Idris Elba (Stringer) is British but he often speaks in his American accent to fans. He says "wherever I go, the real hardcore drug dealers come up to me and confide in me. I almost feel guilty turning around and saying 'Ello Mate. My name's Idris and I'm from London."
Who Suffered From an Identity Crisis?
Omar's Addiction and Identity
He Was Addicted to Cocaine: Michael Kenneth Williams (Omar) had a difficult time during the third season of The Wire. Even though he never missed a day for work, he was suffering from an addiction to cocaine. And because of his popularity as Omar, he even went through an identity crisis!
There Was Supposed to be a Spin-off!
The Hall – A Spin-off of The Wire
It Was Rejected: The Hall was supposed to be a continuation of the political story of the third season of The Wire. It was ultimately rejected, however, because of The Wire's low ratings at the time.
Do You Know Who Was Supposed to Die?
Kima's Non-Death
She Was Supposed to Die! Originally Kima was supposed to be killed off in the first season. After she learned this, her actress (Sonja Sohn) began organizing memorials for any character that died in the show. These events were attended by all relevant cast members.
He Couldn't Work His VCR! 
Tom Waits and the Theme Song
He Left Them Hanging! Tom waits is the composer of The Wire's theme song, but for a while they thought he wouldn't be. To see if he liked the show enough for them to use his song, the producers send video tapes of The Wire to Tom Waits–And then never heard back! Eventually the producers got a hold of him and he told them that he just hadn't watched the tapes yet because his wife was out of town and he didn't know how to use the VCR!
Two days later he gave them approval.
The Wire as a T-Shirt Business?
Selling T-Shirts on Set
They Weren't Allowed to Film There! Some of the main sets used by The Wire were built inside a former Sam's Club Warehouse store. The problem was that the building was only zoned for retail. The show got in trouble and for awhile the producers seriously considered opening a store on site, to sell t-shirts and other Wire memorabilia!
Perhaps they could have sold Marlo's t-shirts! Jamie Hector (Marlo) has his own fashion label and would often wear his own clothing as Marlo in The Wire.
You Won't Believe How Many Guns Were Fired!
The Police and Their Guns
Only three times! Throughout the five seasons of The Wire, only one police officer ever fires his gun. And he does so just three times throughout the series!
Each Time it was a Mistake! The first time he shoots the wall in the squad room. The second time, drunkenly into the air. And the third time he shoots an undercover cop!
They Made the Character For Him!
Poot's Character Creation
He Was Too Short! Tray Chaney (Poot) originally auditioned to play Wee-Bey but he was too short for the role. However, the producers were still very impressed with him, so much so that they specifically created the character of Poot just for him!
Chaney isn't the only one that ended up playing a role that he didn't originally audition for. Many others, including the actors that played Cedric Daniels, Marlo Stanfield, Ellis Carver, Chris Partlow, and Weems, originally auditioned for different roles!
How Were the Child Actors So Brilliant?
Proposition Mentor
He Mentored the Child Actors: Robert F. Chew (Proposition Joe) selected the brilliant child actors of season four and then personally mentored them throughout the filming.
Where Did McNulty Really Go?
McNulty's Break
He Missed His Family! Why did McNulty end up taking a patrol job? Well, his actor Dominic West had requested that he be given a reduced role in the series. That way he could have enough time off to see more of his family in London.
He Almost Didn't Take the Job! West was sceptical about accepting the role of McNulty in the first place because he didn't want to sign on to something as long as five seasons. He only ended up taking the job because his agent assured him that the show would only last one season!
Who Blew All Their Money?
Omar's Money Trouble
He Got Evicted! In season two, Michael Kenneth Williams (Omar) was broke. He blew all his money from season one and spread it around until there was nothing left! In the end, he was kicked out of his new crib and had to stay with his "baby mother," until season three began.
He Walked Around the City At Night!
Bodie is Baltimore
He Walked Around the City at Night! J.D. Williams (Bodie) took his role in The Wire seriously. He got into his character's head by walking around Baltimore at night.
Williams says about his character: "Bodie is Baltimore, Baltimore is Bodie. He loves
his environment, and I know he believes his environment loves him. And that's why he is the way he is."
They Hired a Murderer.
Snoop's Shady Past
She Was Convicted of 2nd Degree Murder! Felicia Pearson (Snoop) was just fourteen years old when she had an altercation with a fifteen year old boy named Okia. Felicia pulled out a gun and shot him twice, killing the boy.
The Family Was Upset at the Show: After serving her time, Felicia Pearson ended up playing a character with her own name (AKA Snoop) on The Wire. The family of her victim were understandably angry at the show for hiring her, especially considering she was given such a violent role.
Guess What Famous Line Was Made Up!
Sheeeeeee-it
He improvised the line! The line "Sheeeeee-it" was never a part of the script. Isiah Whitlock Jr. (Senator Clay Davis) actually made up the line himself and it ended up sticking!
Quiz! Do You Know Who Randy Wagstaff's Father Was?
Randy and Cheese
Cheese Was His Father! Even though it was never confirmed in the series, David Simon admits that Randy Wagstaff, the ill-fated schoolboy from season four, really was Cheese's son!
We've Almost Made it to the Video! Don't Stop Now!
Can You Guess Who Wore a Fat Suit?
Frank Sobotka's Fat Suit
He Was in Too Good of Shape! To make Chris Bauer (Frank Sobotka) believable as a beefy middle-aged dock worker, he had to wear a fat suit.  He does so throughout the entire second season!
What's Next For the Wire Creators?
New Projects From the Creators of The Wire!
There are Two possible projects in the works!
The First is The Deuce: It is about twins "embroiled in the 1970's pornography scene and all the mob and drug-related complications that accompany that particular environment." If this one goes ahead then James Franco could be playing the twins!
The Second is a Political Drama: At this time it is still unnamed but it would be based in modern times, on the politics of Capitol Hill.
You'll love this funny video of a man who makes the ultimate mistake; spoiling season 2 of The Wire!
Can you please share?
If you liked this post, I'm sure your friends would appreciate it as well. I worked hard on research, writing, images and editing and the truth is that I only earn from sponsors. If you'd like to say thanks, I would highly appreciate it if you could simply share on Facebook.
How simple is it to share? Just click on the blue share button here below (don't worry, you will be able to see how it looks first):
Thank you!
More From Briff.me
Here at Briff.me, knowing that our precious time together on Earth is waaay too short for a long feed, we bring you the best of the best, like this special briff about the behind the scenes of The Wire. If you want to get more posts like this, click like on the Briff.me Facebook page.