Breaking Bad: Secrets, Facts, Quotes and Rare Behind the Scenes Photos
Any true fan of Breaking Bad would love these stories. I didn't know most of them, like the truth about the two chemical elements Bromine and Barium. And I couldn't believe the alternate ending… Wow!
You probably know this famous quote from Walter White: "No, you clearly don't know who you're talking to, so let me clue you in. I am not in danger, Skyler. I AM the danger." But did you know that Walter's middle name is Hartwell? Yes it is. And Jesse's middle name is Bruce. It takes some reading, there's a great video towards the end, and pure joy is guaranteed… Click Next to Continue!
Would have been better or worse? This is a true story! On the season one DVD audio commentary, Vince Gilligan revealed that Jesse was originally going to die by the end of season one. However, they changed their minds after seeing Aaron Paul's performance. And it improved with time, right? Breaking Bad is the first show since Law & Order in 1997 to win the Emmy for Best Drama Series, without being nominated for the award in its debut season.
Have you noticed this fact? Only twice during the series does Jesse refer to Walt by his first name. And if we're looking into names, the name of the Whites' baby girl, Holly, is another in Vince Gilligan's many career-long references to his longtime girlfriend, Holly Rice that have been included in his scripts. There were also references to Rice in nearly all of Gilligan's episodes of "The X-Files" (1993).
Beautiful story! The first episode to the second half of Season 5 is dedicated to Kevin Cordasco, a teen Superfan of the show who died of cancer in March of 2013. Before his death Kevin was able to meet Bryan Cranston, Vince Gilligan and other prominent members of the Breaking Bad family, and he was even offered the chance to read the final scripts of the series so he would know how the show ends. Kevin declined, as he didn't think he could keep the secret.
By the way, costars Bryan Cranston, Matt Jones, and Bob Odenkirk have all appeared in How I Met Your Mother (2005).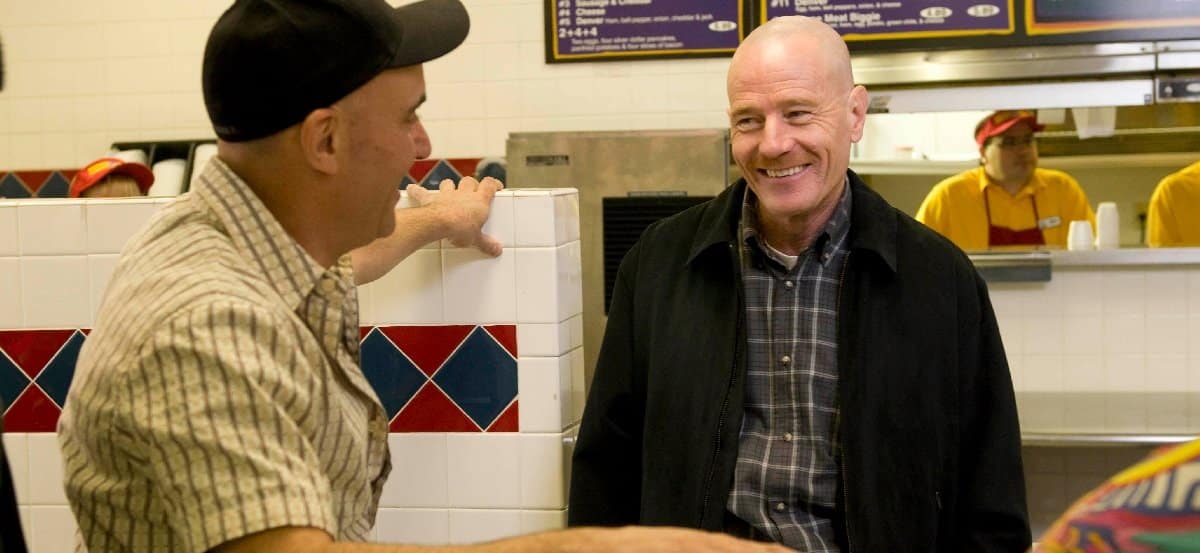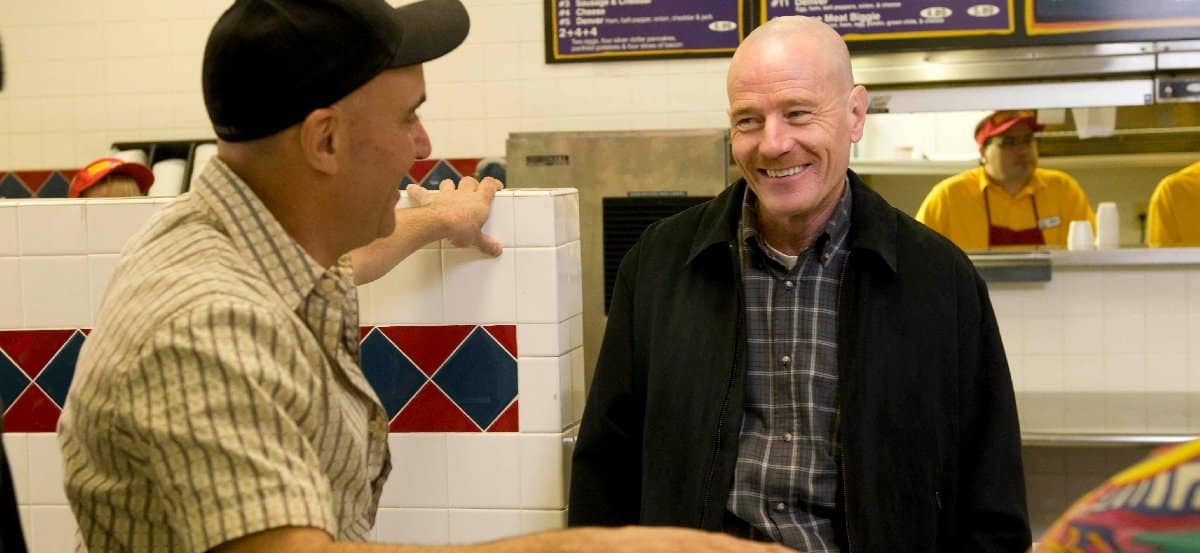 Sounds crazy, but this fact was checked with the prodcution and found as a real story! During filming, the introduction of Wendy the prostitute was briefly interrupted when a non-actor attempted to pick up actress Julia Minesci, mistaking her for an actual prostitute. And in the words of Walter White: Never give up control!
The Car Story: Walt's car is a well-used 2003 Pontiac Aztek, repainted a pale non-factory dull-green chosen by series creator Vince Gilligan perhaps to mimic a faded original paint job and thus symbolize Walt's previous bland existence. The windshield has been broken and replaced several times due to catastrophes both great and small, all traceable to Walt's descent into the drug world. Though Pontiac's Aztek was widely derided as ugly, overpriced and beset with quality issues (it never met sales quotas), it has built a loyal following for its versatility and is considered something of a good used-car deal – a deliberate analogy maybe to Walt's survival skills in his dangerous second career. The show's production keeps at least 2 Azteks equipped for different filming situations.
Do you also love Walter Jr.? You'd be surprised… The actor who portrays Walter Jr. in the series (RJ Mitte), actually has cerebral palsy like his character on the show. However, his real life affliction is much milder than his character's, and he had to learn to walk with crutches and slow down his speech to play the part. But he never met Jesse. Yup. Jesse and Walt Jr. are the only regular characters from the first season that never meet each other in the series.
Body count: 270, including 167 unnamed passengers killed during the plane crash in 'ABQ'. Excluding the plane crash, being shot is the most common way for characters to die, accounting for 56 of the 98 deliberate killings in the series.

Not everything is real on Breaking Bad. When characters on the show are smoking meth, they are actually smoking sugar or rock candy but do not inhale. But Bryan Cranston has a very real Breaking Bad tattoo on his ring finger.
In the final episode, Jesse only says five sentences, which he does in one of the last scenes of the show. And here's my favorite quote from Jesse Pinkman: So you do have a plan? Yeah, Mr. White! Yeah, science!
That final song, ohhh… Where did it come from? Vince Gilligan personally selected Baby Blue by Badfinger as the song to be played during the series' final scene, despite numerous objections from his music team. The song was purchased from iTunes over 5,000 times the night of the finale's initial broadcast and re-entered the Billboard charts more than 40 years after it was first released.
The perfect Walter White, right? Sony and AMC were initially reluctant to cast Bryan Cranston because of his previous comedic roles and considered both John Cusack and Matthew Broderick for Walter White. When they both declined, Vince Gilligan got to cast Cranston.
Spoiler Alert! The same Bryan Cranston reportedly cried after filming the scene in which Walter watches Jane die.
Real chemistry genius! A main plot point of Breaking Bad concerns the main character, Walt, being a bona fide chemistry genius. Marius Stan, who plays Walt's impressively-eyebrowed boss at the carwash Bogdan, in real life is an actual chemistry genius. He has a PhD in Chemistry, and still works in that field. Breaking Bad was his first foray into acting.
True or false? In The Walking Dead it is implied that Jesse Pinkman is Merle Dixon's drug dealer.
This is true for sure: The pseudonym for 'Bob Odenkirk"s character Saul Goodman is derived from "it's all good, man."
Why no Season 6? It was Vince Gilligan's decision to finish the show in season 5, because he didn't want to make the mistake many successful shows make by running too long until the quality decreases. I tend to agree. And you?
We're not the only fans… Singer Rihanna is a huge fan of Breaking Bad. She would always get caught up on the show while touring.
Who else counts episodes? Gus Fring was originally supposed to appear in only three or four episodes. Giancarlo Esposito was asked to return for seven episodes in season three. But Esposito refused to return unless he could appear in more episodes. He ended up appearing in 11 episodes in the third season.
According to Giancarlo Esposito, he based his performance as Gus Fring on Edward James Olmos's performance as Lt. Martin Castillo in Miami Vice (1984). He noticed that Olmos was very quiet and still but suggested an inner turmoil. Esposito guest starred on that series three times.
The series ran for 62 episodes. The 62nd element on the periodic table is Samarium, an isotope of which is used to treat various forms of cancer, including lung cancer.
Life behind the scenes can be surprising… According to Bryan Cranston, he was so into character that he would insult and curse at Christopher Cousins, who played Ted, when they were off screen.
Walter was originally written to be 40 years old. AMC felt that 40 was too young for Walter to have a mid-life crisis and requested his age change to 50.
Who is this in the background? Sometimes, you can actually see the crew, as you can see in this photo. I'm not a big fan of goofs and mistakes because I think it's only natural. So we won't go through many of them. And yet… In multiple episodes the view in the rear view and side mirrors is reversed from what it should be. It makes the driver in the trailing car appear to be sitting in the right front passenger seat of the car.
Factual chemistry error: In the opening credits letters in the names are highlighted in green so as to represent a chemical element symbol. However, Michael Slovis, the Director of Photography, for several of the beginning episodes, they highlight the Ch. There is no chemical element symbol Ch. After a number of episodes they caught it and thereafter they only highlighted the C. That's it for goofs. Click next for better stories…!
Yes, the strike saved Jesse! But for the writers' strike in the first season, Aaron Paul's Jesse Pinkman would have been written out by the 9th episode. During the hiatus caused by the strike, creator Vince Gilligan reconsidered and, impressed by Paul's portrayal of Jesse, decided to reinstate the character.
Vince Gilligan said in an interview that, retrospectively, having season one shortened due to the writer's strike actually helped him because he had planned to evolve Walt into evil faster to conclude the season in a shocking way. With the strike, he could write the evolution much more gradually.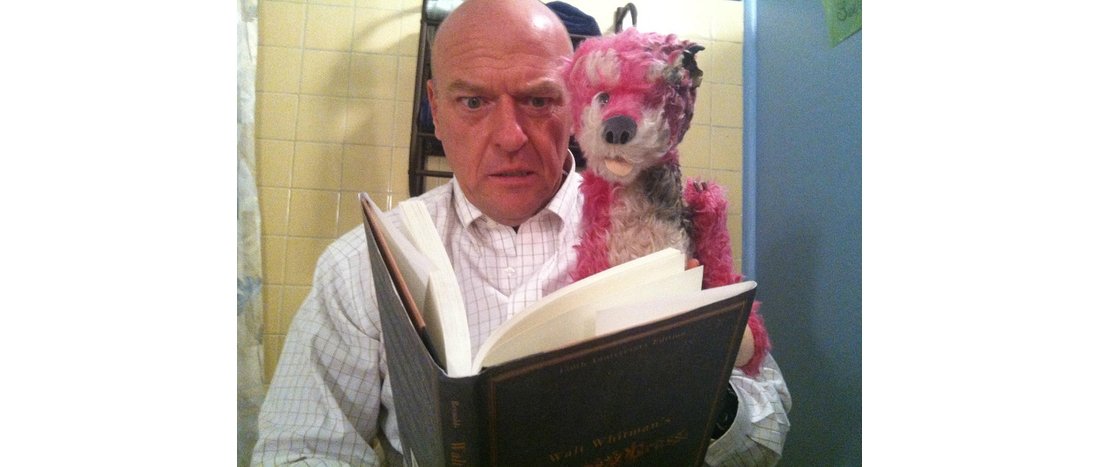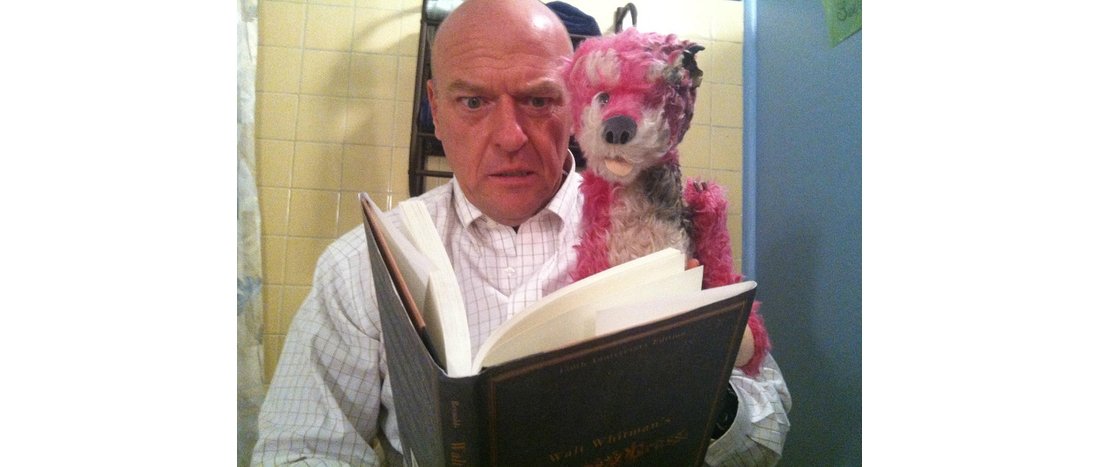 About the Money! The location shoot of the series in New Mexico pumped roughly $1M per episode into the local economy.
About the People! As the show progressed, Vince Gilligan noticed he had to stop criticizing Walt and how evil he was becoming in front of Bryan Cranston, because he was hurting the actor's feelings.
Some real chemistry facts: In the beginning of each episode, the chemical formula C10H15N along with the number 149.24 and the word "Meth" can be seen just before the title Breaking Bad appears. C10H15N is the formula for methamphetamine, which has the molecular weight of 149.24.
Great behind the scenes story, love it! During the stand – off between Hank and Gomie and the White Supremacist gang, Jack asks how do they know that they (Hank and Gomie) are actually cops, Steven Quezada, who plays Gomie, broke character and said 'Because Dean Norris plays a cop in everything he's fu**ing in!' Which led to those on set laughing.
Again, thanks for the strike… Vince Gilligan said in an interview that, retrospectively, having season one shortened due to the writer's strike actually helped him because he had planned to evolve Walt into evil faster to conclude the season in a shocking way. With the strike, he could write the evolution much more gradually.
While pitching the show to Bryan Cranston, Vince Gilligan told him he wanted to start off with a nerdy Mr. Chips type character and transform him into Scarface by the end of the show.
Why Albuquerque? Breaking Bad was originally set in Riverside, California, but it was moved to Albuquerque to take advantage of a tax rebate on production. The GPS coordinates N34 59 20 W106 36 52 where the money is hidden, and where Hank and Gomez are buried, actually corresponds to the location of Albuquerque Studios.
And more trivia: Aaron Paul (Jesse Pinkman) says the word "bitch" 54 times throughout the series.
What "Breaking Bad" Means?? Lead actor Bryan Cranston stated in an interview that the term "breaking bad" is a southern colloquialism and it means when someone who has taken a turn off the path of the straight and narrow, when they've gone wrong, which could be for that day or for a lifetime.
Who was Heisenberg? Walter White's alias, Heisenberg, is a tribute to Werner Heisenberg, who formulated the uncertainty principle, which states that it is impossible to determine simultaneously both the position and velocity of an electron or any other particle with any great degree of accuracy or certainty.
They can only be sorry now… In 2005, after Showtime, TNT and HBO rejected the initial pitch for "Breaking Bad" FX stepped in and immediately began development on the pilot, but eventually passed on the project in favor of the Courteney Cox show "Dirt" in a bid to draw more female viewers. According to Vince Gilligan, HBO showed no interest even on the pitch and TNT loved the idea, but said that they couldn't air a show with a crystal meth dealer as the central character.
Breaking Bad was originally going to be on HBO but the channel denied the show thinking it wouldn't last. They only read the first episode.
Amazing fashion story. Wow! Characters and their values are represented by the colors they wear. Skyler is usually dressed in blue and Jesse in yellow and red (when he is in recovery, he wears gray). Walter wears green because he is stuck between his family and the drug trade. When the Whites' daughter is born, pink is introduced to the spectrum. Similar color patterns show up during the series. The DEA agents, Hank and Gomez, wear orange, representing police. Marie is usually in purple and many of the other doctors on the show are seen in it as well. And Jane, the recovering heroin addict, wears black.
As the series progresses, the character of Walter White starts wearing more and more black or dark-colored clothing. Several Season 5 episodes have him wearing almost no other color than black or dark grey. In the final eight episodes of the series Jesse wears the same clothes for all of them. He only alters it by removing articles such as his sweater.
One shot, one shot! That why it looks so real. The scene where the cousins blow up the immigrant smuggling truck could only be filmed in one take, so the actors had to get everything spot on, including walking away without looking back. They said this was made harder by the heat coming from behind them.
They could make meth… In order to be as accurate as possible, Bryan Cranston and Aaron Paul learned how to produce meth, and the sequences of them making it are accurate. However, they are deliberately edited out of order to prevent copycats.
But not in blue! In the show, Walter White, aka Heisenberg, makes pure blue crystal meth using a methylamine process. However, recent studies show that it's impossible to make crystal meth blue the way Walt does.
Not necessarily Jewish. During an August 2013 interview with Terry Gross on her public radio program "Fresh Air," Bob Odenkirk said that when he first heard a description of the character he ended up playing, Saul Goodman, from the showrunner Vince Gilligan, Odenkirk heard the character's name and said that he might not be the best choice for the role because he isn't Jewish. Gilligan responded that Saul Goodman isn't actually Jewish either–that "Goodman" is a fake last name that the character adopted because he thought it sounded stereotypically Jewish. Odenkirk also told Gross that Goodman's odd hairstyle–a thinning combover-mullet combination–was his idea.
Avengers on Breaking Bad! Samuel L. Jackson showed up unannounced during filming on the Pollos Hermanos set one day, dressed in his Nick Fury outfit from The Avengers (2012). Both productions of Breaking Bad and The Avengers were happening on the same studio lot, and Jackson wanted to be an extra during the scene being filmed. The producers denied his request to appear as Nick Fury on the show.
Another inter-series story… Gus Fring was originally written as a character named Kesyer Söze (a reference to The Usual Suspects (1995)). Söze was supposed to appear late in the first season but a writers strike shortened the season. Giancarlo Esposito who played Gus appeared in The Usual Suspects.
Classic trivia fact: Hank Schrader's family name is also related to chemistry. The German scholar Gerhard Schrader (1903 – 1990) was the one who accidentally discovered the first nerve gas.
And a lucky break: Aaron Paul is a perfectionist, so one day during filming Paul asked if he could stand on the other side of Bryan Cranston for a scene, during the filming of the scene a boulder fell to the ground where Paul was originally standing.
Casting stories from Breaking Bad. Before working together on Breaking Bad (2008), Vince Gilligan had already cast Bryan Cranston against his usual type in "Drive," an episode of The X-Files (1993) that Gilligan wrote in which Cranston played a white supremacist with an infection that made his head explode if his car's speed dipped below 50 miles per hour. Gilligan has said their collaboration in this episode convinced him that Cranston was the only actor who could portray Walter White as they had a hard time finding someone who could portray a sympathetic villain when casting "The X-Files" episode.
Who wants meth? The show depicts methylamine as something restricted and rare chemical. In reality methylamine can quite easily be produced by combining methanol and ammonia with a catalyst (that are even reusable) present. Two products that are readily available and a process that is far more basic than a lot of the other chemical processes in the production of methamphetamine.
Almost no Pinkman… In the original pilot script, Jesse Pinkman was named "Marion Alan Dupree" and was always referred to by his last name.
Could you believe? The supposedly remote 'desert' sequences where the RV meth cooking sessions were covertly conducted, were simply filmed on the production facility backlot in New Mexico.
No Latin America here. A plotline was written for the third season in which Walt visits a South American drug lord in prison to convince him to help him put Gus Fring out of business. However, the writers could not figure out how Walt would be able to connect with the drug lord so it was discarded.
Was the pregnancy real? Betsy Brandt was pregnant during season two. Whenever she reached the point in the pregnancy that Skyler was supposed to be, the producers would do pick-up shots with her as the fake bare belly on Anna Gunn.
Almost never alone. As of 2012, there have only been five episodes where stars Bryan Cranston and Aaron Paul do not share any scenes together. They are episode 2.6 "Peekaboo", episode 3.2 "Caballo Sin Nombre", episode 3.3 "I.F.T." , episode 4.10 "Salud", and episode 5.10 "Buried".
Want to visit the real house? 308 Negra Arroyo Lane, where the Whites live, is actually 3828 Piermont Dr NE, Albuquerque, NM. The popularity of the TV series spawned a cottage industry for a variety of Albuquerque (NM) citizens, including everything from cosmetics, spa, bathroom and 'blue rock' candy products to a tour of both the good and bad locations used in the series. The White family house for most of the series is actually located in Albuquerque and is currently a private residence as of 2015. Additionally, the house's residents have had to deal with fans of the show recreating Walter's famous pizza throw onto the house's roof and conducted media interviews asking to be left alone.
If you're a real fan, prepare to be emotional. Vince Gilligan while directing the final episode, Felina, couldn't bear to directly watch Walt and Skyler's last ever scene together because it was so emotional for him.
The Godfather on Breaking Bad: When Saul first approaches Walt about a business arrangement he compares his services for Walt to Tom Hagen's role as consigliere to Vito Corleone. Walt objects, saying "I'm no Vito Corleone," to which Saul responds "Right now, you're Fredo." Shortly afterward Walt and his family hear that his tumor has shrunk, Hank misquotes The Godfather: Part III, saying "Just when I tried to get out, they pull me back in," referencing Walt as Michael Corleone.
Overdose conspiracy! Two series casting directors – Shari Rhodes and Gwyn Savage – died within 32 days of each other during the show's production. Memorial tributes were screened during the respective post credit episode sequences.
Casting philosophy: One thing that had been noticed by many people, was that for such a successful TV show, a lot of the cast weren't very famous or offered much in terms of star power etc. and some were relatively unheard of, Vince Gilligan noted that this was by choice, and as the show went on he actually rejected big named stars in favour of lesser known actors.
Who is the actual bad guy? Although the main character of this show is someone who commits many serious crimes (including money laundering, murder, and manufacturing and distributing an illegal and very dangerous drug), from the start of the show, a great deal of fan hatred has focused not on him but on his wife, Skyler (played by Anna Gunn). Fans have created many Facebook and other Web pages dedicated to enumerating Skyler's perceived flaws. This became so well-known that Gunn herself wrote an August 24, 2013, New York Times op-ed titled "I Have a Character Issue" about the phenomenon of TV viewers hating strong female characters such as Skyler, Carmela Soprano of "The Sopranos," and Betty Draper of "Mad Men" despite the fact that they are wives of male characters who engage in much less sympathetic and often outright criminal behavior.
Alternate ending? There is an alternate ending of the series finale on the last season DVD. It involves Bryan Cranston playing the role of his Malcolm in the Middle character Hal waking up from a nightmare which happens to be the events of Breaking Bad. Jane Kaczmarek also makes a cameo appearance as her Malcolm in the Middle role Lois.
The truth about Br and Ba: The two chemical elements Bromine and Barium, the abbreviated forms of which appear as high-lighted boldface fonts in the title – (Br)eaking) (Ba)d – have nothing to do with the manufacture of "crystal meth" (Methamphetamine).
Spoiler Alert! Walter White died on September 7th, the same day he was born.
Final important trivia fact: Bryan Cranston & Aaron Paul appear in all 62 episodes! September 29th, 2013 was the air date of the last episode. And we miss them!
Breaking Bad: The Gag Reel
If you've reached all the way here, you must be a true fan. Lean back, relax and enjoy 12 minutes of a great video! This is the funniest gag reel with bloopers from seasons 2, 3, and 4. Enjoy!
Final Quote by Walter White: Who are you talking to right now? Who is it you think you see? Do you know how much I make a year? I mean, even if I told you, you wouldn't believe it. Do you know what would happen if I suddenly decided to stop going into work? A business big enough that it could be listed on the NASDAQ goes belly up. Disappears. It ceases to exist, without me. No, you clearly don't know who you're talking to, so let me clue you in. I am not in danger, Skyler. I AM the danger. A guy opens his door and gets shot, and you think that of me? No! I am the one who knocks!
Can you please share?
If you liked this post, I'm sure your friends would appreciate it as well. I worked hard on research, writing, images and editing and the truth is that I only earn from sponsors. If you'd like to say thanks, I would highly appreciate it if you could simply share on Facebook.
How simple is it to share? Just click on the blue share button here below (don't worry, you will be able to see how it looks first):
Thank you!
More from Briff.me
Assuming that you're a real fan of epic movies and a TV series like Breaking Bad, don't miss this exclusive post featuring Star Wars: Surprising Facts and Behind the Scenes Photos.
This original post about the secrets and facts of Breaking Bad was curated and edited with the help of Google. Some of these brilliant photographs are shared all around the social web. If you find your very own photo or simply want to add specific credit – sure! Simply drop us a line and we'll be happy to add the details.
Here at Briff.me, knowing that our precious time together on Earth is waaay too short for a long feed, we bring you the best of the best, like this special briff about Breaking Bad secrets and facts. If you want to get more posts like this, click like on the Briff.me Facebook page.
Liked this Briff? Click a button to Share…