Breaking Bad: Secrets, Facts, Quotes and Rare Behind the Scenes Photos
Any true fan of Breaking Bad would love these stories. I didn't know most of them, like the truth about the two chemical elements Bromine and Barium. And I couldn't believe the alternate ending… Wow!



You probably know this famous quote from Walter White: "No, you clearly don't know who you're talking to, so let me clue you in. I am not in danger, Skyler. I AM the danger." But did you know that Walter's middle name is Hartwell? Yes it is. And Jesse's middle name is Bruce. It takes some reading, there's a great video towards the end, and pure joy is guaranteed… Click Next to Continue!

Would have been better or worse? This is a true story! On the season one DVD audio commentary, Vince Gilligan revealed that Jesse was originally going to die by the end of season one. However, they changed their minds after seeing Aaron Paul's performance. And it improved with time, right? Breaking Bad is the first show since Law & Order in 1997 to win the Emmy for Best Drama Series, without being nominated for the award in its debut season.
Have you noticed this fact? Only twice during the series does Jesse refer to Walt by his first name. And if we're looking into names, the name of the Whites' baby girl, Holly, is another in Vince Gilligan's many career-long references to his longtime girlfriend, Holly Rice that have been included in his scripts. There were also references to Rice in nearly all of Gilligan's episodes of "The X-Files" (1993).


Beautiful story! The first episode to the second half of Season 5 is dedicated to Kevin Cordasco, a teen Superfan of the show who died of cancer in March of 2013. Before his death Kevin was able to meet Bryan Cranston, Vince Gilligan and other prominent members of the Breaking Bad family, and he was even offered the chance to read the final scripts of the series so he would know how the show ends. Kevin declined, as he didn't think he could keep the secret.
By the way, costars Bryan Cranston, Matt Jones, and Bob Odenkirk have all appeared in How I Met Your Mother (2005).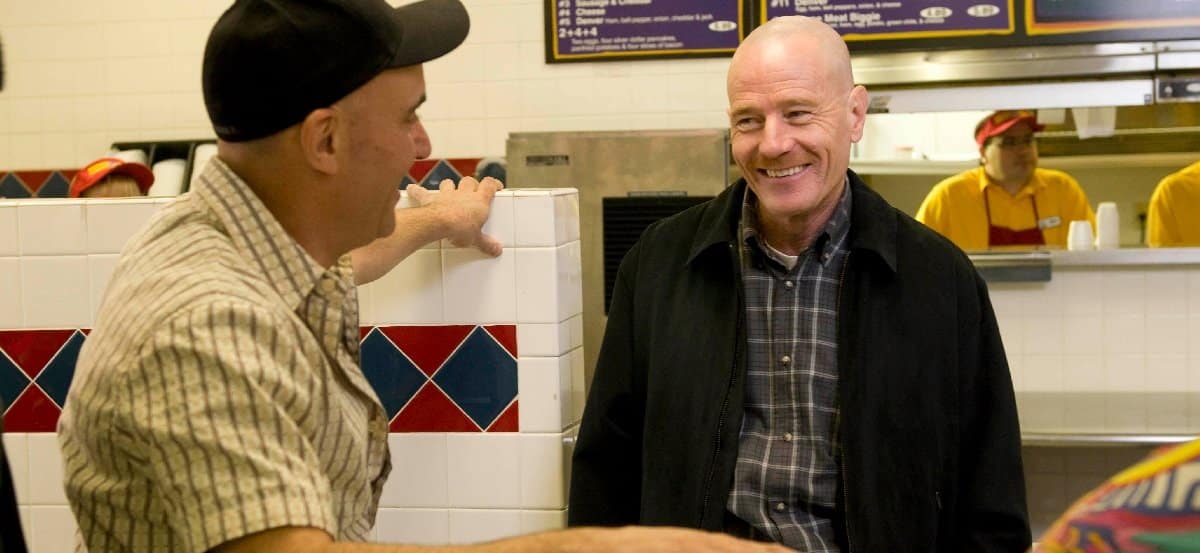 Sounds crazy, but this fact was checked with the prodcution and found as a real story! During filming, the introduction of Wendy the prostitute was briefly interrupted when a non-actor attempted to pick up actress Julia Minesci, mistaking her for an actual prostitute. And in the words of Walter White: Never give up control!
The Car Story: Walt's car is a well-used 2003 Pontiac Aztek, repainted a pale non-factory dull-green chosen by series creator Vince Gilligan perhaps to mimic a faded original paint job and thus symbolize Walt's previous bland existence. The windshield has been broken and replaced several times due to catastrophes both great and small, all traceable to Walt's descent into the drug world. Though Pontiac's Aztek was widely derided as ugly, overpriced and beset with quality issues (it never met sales quotas), it has built a loyal following for its versatility and is considered something of a good used-car deal – a deliberate analogy maybe to Walt's survival skills in his dangerous second career. The show's production keeps at least 2 Azteks equipped for different filming situations.


Do you also love Walter Jr.? You'd be surprised… The actor who portrays Walter Jr. in the series (RJ Mitte), actually has cerebral palsy like his character on the show. However, his real life affliction is much milder than his character's, and he had to learn to walk with crutches and slow down his speech to play the part. But he never met Jesse. Yup. Jesse and Walt Jr. are the only regular characters from the first season that never meet each other in the series.
Body count: 270, including 167 unnamed passengers killed during the plane crash in 'ABQ'. Excluding the plane crash, being shot is the most common way for characters to die, accounting for 56 of the 98 deliberate killings in the series.

Not everything is real on Breaking Bad. When characters on the show are smoking meth, they are actually smoking sugar or rock candy but do not inhale. But Bryan Cranston has a very real Breaking Bad tattoo on his ring finger.
In the final episode, Jesse only says five sentences, which he does in one of the last scenes of the show. And here's my favorite quote from Jesse Pinkman: So you do have a plan? Yeah, Mr. White! Yeah, science!


That final song, ohhh… Where did it come from? Vince Gilligan personally selected Baby Blue by Badfinger as the song to be played during the series' final scene, despite numerous objections from his music team. The song was purchased from iTunes over 5,000 times the night of the finale's initial broadcast and re-entered the Billboard charts more than 40 years after it was first released.

The perfect Walter White, right? Sony and AMC were initially reluctant to cast Bryan Cranston because of his previous comedic roles and considered both John Cusack and Matthew Broderick for Walter White. When they both declined, Vince Gilligan got to cast Cranston.
Spoiler Alert! The same Bryan Cranston reportedly cried after filming the scene in which Walter watches Jane die.


Real chemistry genius! A main plot point of Breaking Bad concerns the main character, Walt, being a bona fide chemistry genius. Marius Stan, who plays Walt's impressively-eyebrowed boss at the carwash Bogdan, in real life is an actual chemistry genius. He has a PhD in Chemistry, and still works in that field. Breaking Bad was his first foray into acting.

True or false? In The Walking Dead it is implied that Jesse Pinkman is Merle Dixon's drug dealer.
This is true for sure: The pseudonym for 'Bob Odenkirk"s character Saul Goodman is derived from "it's all good, man."

Why no Season 6? It was Vince Gilligan's decision to finish the show in season 5, because he didn't want to make the mistake many successful shows make by running too long until the quality decreases. I tend to agree. And you?
We're not the only fans… Singer Rihanna is a huge fan of Breaking Bad. She would always get caught up on the show while touring.


Who else counts episodes? Gus Fring was originally supposed to appear in only three or four episodes. Giancarlo Esposito was asked to return for seven episodes in season three. But Esposito refused to return unless he could appear in more episodes. He ended up appearing in 11 episodes in the third season.
According to Giancarlo Esposito, he based his performance as Gus Fring on Edward James Olmos's performance as Lt. Martin Castillo in Miami Vice (1984). He noticed that Olmos was very quiet and still but suggested an inner turmoil. Esposito guest starred on that series three times.
The series ran for 62 episodes. The 62nd element on the periodic table is Samarium, an isotope of which is used to treat various forms of cancer, including lung cancer.

Life behind the scenes can be surprising… According to Bryan Cranston, he was so into character that he would insult and curse at Christopher Cousins, who played Ted, when they were off screen.
Walter was originally written to be 40 years old. AMC felt that 40 was too young for Walter to have a mid-life crisis and requested his age change to 50.

Who is this in the background? Sometimes, you can actually see the crew, as you can see in this photo. I'm not a big fan of goofs and mistakes because I think it's only natural. So we won't go through many of them. And yet… In multiple episodes the view in the rear view and side mirrors is reversed from what it should be. It makes the driver in the trailing car appear to be sitting in the right front passenger seat of the car.
Factual chemistry error: In the opening credits letters in the names are highlighted in green so as to represent a chemical element symbol. However, Michael Slovis, the Director of Photography, for several of the beginning episodes, they highlight the Ch. There is no chemical element symbol Ch. After a number of episodes they caught it and thereafter they only highlighted the C. That's it for goofs. Click next for better stories…!


Yes, the strike saved Jesse! But for the writers' strike in the first season, Aaron Paul's Jesse Pinkman would have been written out by the 9th episode. During the hiatus caused by the strike, creator Vince Gilligan reconsidered and, impressed by Paul's portrayal of Jesse, decided to reinstate the character.
Vince Gilligan said in an interview that, retrospectively, having season one shortened due to the writer's strike actually helped him because he had planned to evolve Walt into evil faster to conclude the season in a shocking way. With the strike, he could write the evolution much more gradually.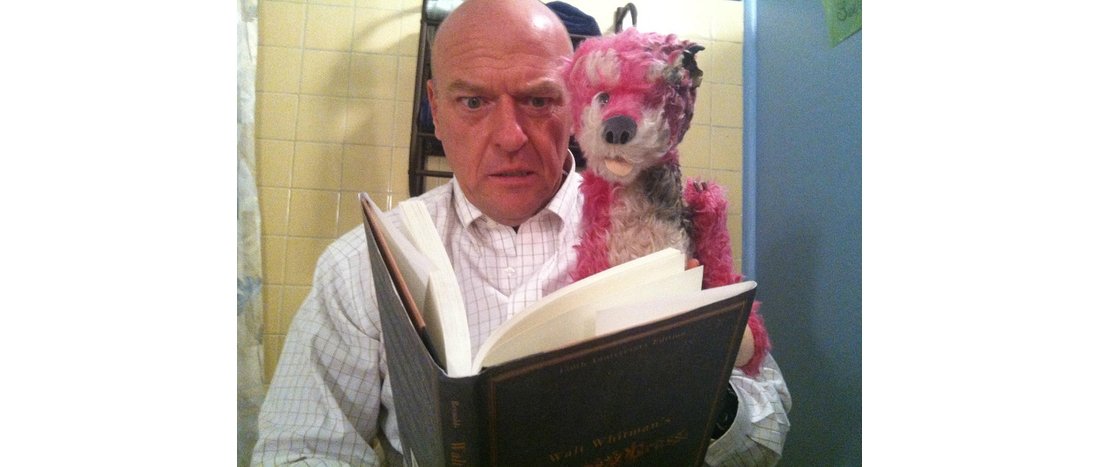 About the Money! The location shoot of the series in New Mexico pumped roughly $1M per episode into the local economy.
About the People! As the show progressed, Vince Gilligan noticed he had to stop criticizing Walt and how evil he was becoming in front of Bryan Cranston, because he was hurting the actor's feelings.


Some real chemistry facts: In the beginning of each episode, the chemical formula C10H15N along with the number 149.24 and the word "Meth" can be seen just before the title Breaking Bad appears. C10H15N is the formula for methamphetamine, which has the molecular weight of 149.24.

Great behind the scenes story, love it! During the stand – off between Hank and Gomie and the White Supremacist gang, Jack asks how do they know that they (Hank and Gomie) are actually cops, Steven Quezada, who plays Gomie, broke character and said 'Because Dean Norris plays a cop in everything he's fu**ing in!' Which led to those on set laughing.

Again, thanks for the strike… Vince Gilligan said in an interview that, retrospectively, having season one shortened due to the writer's strike actually helped him because he had planned to evolve Walt into evil faster to conclude the season in a shocking way. With the strike, he could write the evolution much more gradually.
While pitching the show to Bryan Cranston, Vince Gilligan told him he wanted to start off with a nerdy Mr. Chips type character and transform him into Scarface by the end of the show.

Why Albuquerque? Breaking Bad was originally set in Riverside, California, but it was moved to Albuquerque to take advantage of a tax rebate on production. The GPS coordinates N34 59 20 W106 36 52 where the money is hidden, and where Hank and Gomez are buried, actually corresponds to the location of Albuquerque Studios.
And more trivia: Aaron Paul (Jesse Pinkman) says the word "bitch" 54 times throughout the series.