12 funniest Google Street surprises found in the Street View
No, the folks who recorded the footages and placed them in the Google Street View didn't intend to do it, or probably they did. Whatever the reason is, and however the way it came across the Google's Orwellian Street view Spy mobiles, Google Street has a good collection of amusing scenes recorded solely on the street. We are not shaming anyone and no one should blame us for having a little laugh, even if it is at the expense of some poor folks.
1. This Shoreditch night can't be found anymore, unfortunately.

2. This fight was planned, though by artist Ben Kingsley and Robin Hewlett
3. "Think that he is peeing, Look again!
4. That's a bit cheeky though.
5. Madrid streets are good to have a pee.
6. Look, here is a gunman in the Rapid City, South Dakota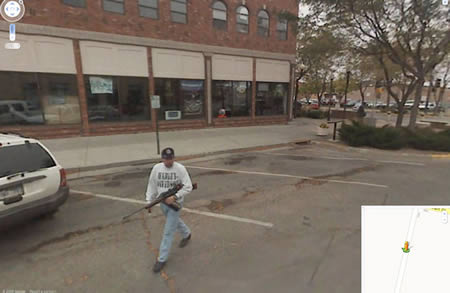 7. Look now, ladies! Here is a lonely man.
8. It isn't funny anymore, it is evidence.
9. Another one…
10. His wife or girlfriend probably didn't know that he was in a strip club.
11. A pervasive wardrobe malfunction.
12. And finally, babes are waiting for your call!

This post was inspired by oddee Thanks!
More from Briff.me
Animated GIFs are a very effective way to express. It has no competition when it comes to fun. Take a look at Funny animated GIF
Sexy quote on T-shirts are very popular nowadays. Find out 5 Funny Sexy T-Shirts
Here at Briff.me, knowing that our precious time together on Earth is waaay too short for a long feed, we bring you the best of the best, like this special briff about Google Street Surprises. If you want to get more posts like this, click like on the Briff.me Facebook