Umbrellas! Expecting Rain?
Umbrella! Special, unique, natural and surprising umbrellas… All you may ever need for a rainy day including even a few cute animals protected in the rain. Don't miss the last concept umbrella which changes everything. Seriously!
The anti wind special umbrella is a great idea for windy days with rain included. Right?
The blue sky umbrella will light up even your rainiest day.
How about these retro style animal shaped umbrellas?
My very own birthday present wish – a Star Wars Light Saber umbrella – brilliant!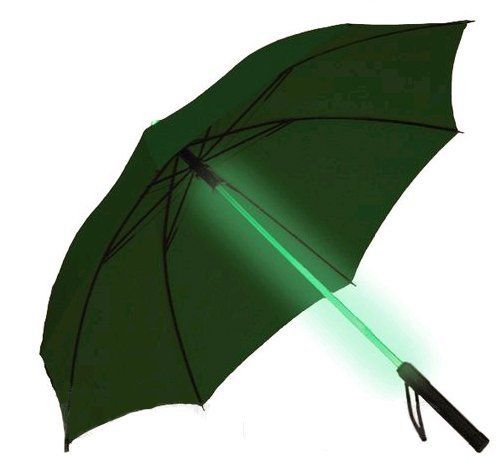 My dog deserves the best in any weather, so why not a dog umbrella?
Check out this funny UFO style rain protection gear. Not bad at all.
En guard! This samurai umbrella will keep you safe in a bad neighborhood.
Finally, for all you couples, the double umbrella!
Remember the hat umbrella? Here the model is no other than the beloved actor Bill Murray.
Here are some crazy transparent umbrellas with a full head cover.
And for the military fans, here's a full helmet shaped anti rain gear.
Are you in love? Sure, here's a heart shaped umbrella, in red of course.
And if red is not your color, you can choose from an abundance of flying colorful umbrellas.
Or you can go for a white stylish strange umbrella like this one.
Humans are not the only creatures to avoid rain. Animals seek shelter as well, like this cure squirrel.
Since this is the Internet, we had to find cats as well, here they are under the rain.
The best photo here, no doubt, of these two kids under a banana leaf umbrella. Natural is the way to go!
This Chipmunk knows it two, using a flower against the rain.
And if a leaf, why not a small one? This bird invented umbrellas with no help from us people.
My second favorite photo – the smartest frog in the world is also very photogenic.
In some countries, rain pours sideways. Here's an interesting solution.
The Invisible Air Umbrella
Last but not least. This is still in concept, but if it works, it can make a big dent in the world of umbrellas. An invisible protection layer using a flow of air as an umbrella. Wow!
Rianna's Umbrella
And of course no text, story, post or article about umbrellas is complete without the faboulus song by Rihanna and Jay-Z – Umbrella! Ella, ella, ah, ah, ah…
More from Briff.me
This collection of umbrellas was curated and edited with the help of Google. Some of these brilliant ideas are shared all around the social web. If you find your very umbrella or idea in a photo or just want to add specific credit – sure! Simply drop us a line and we'll be happy to add the details.
If you have just another minute to spend online, don't miss this brilliant video of the World's youngest choreographer – a young baby leads a professional trio of dancers. Very cute and funny.
Here at Briff.me, knowing that our precious time together on Earth is waaay too short for a long feed, we bring you the best of the best, like this special briff about special umbrellas for a rainy day. If you want to get more posts like this, click like on the Briff.me Facebook page.
Liked this Briff? Click a button to Share…