These Funny Tweets Are Hilarious
Twitter is nowadays a great medium of expressing your feelings. People all over the world tweets about their ideas, views and feelings. Celebrities use this social media platform to engage with people. Share their thoughts, emotion and reaction about something. But sometimes the twitter can be a great funny place for all of us. How it is possible? The answer is very simple, some funny tweets make us laugh everyday. Some humor, seriousness or awkward things are shared every day. People roam around the profiles just to find something like this. It changes their mood and it is really worthy. It is a very good sign. Twitter is becoming a great social media of fun and entertaining day by day. Every day people throughout the world tweets about jokes, funny stories and incidents those will make you laugh.
How is it that when you are dead and a zombie you can rip open a man's ribcage, but when you are alive you struggle with a bag of chips?
If you flip someone off at the exact moment lightning strikes it's called The Thunderbird and it's currently the most powerful known swear.
Thomas Edison: I have an idea
[a fucked up rough draft of the light bulb appears above his head]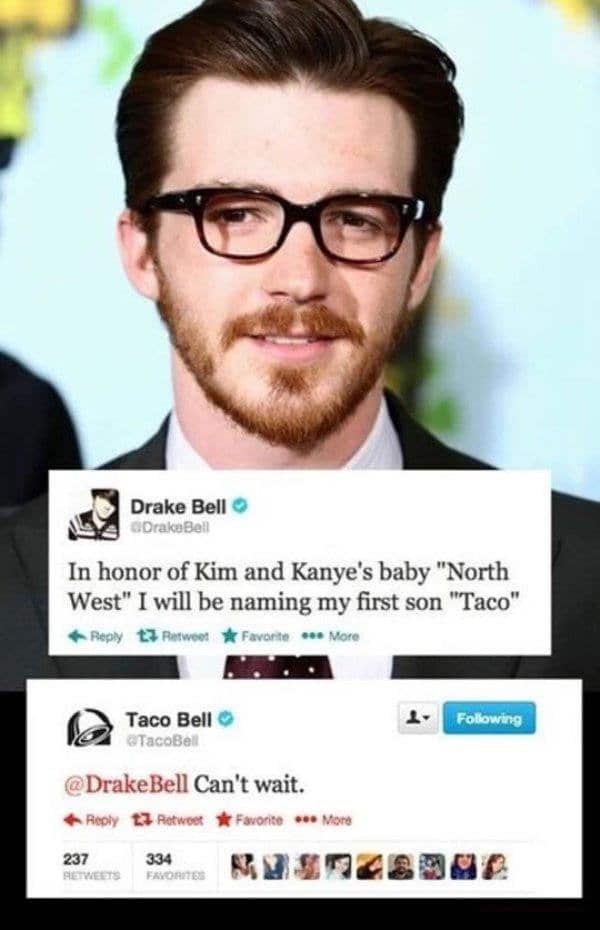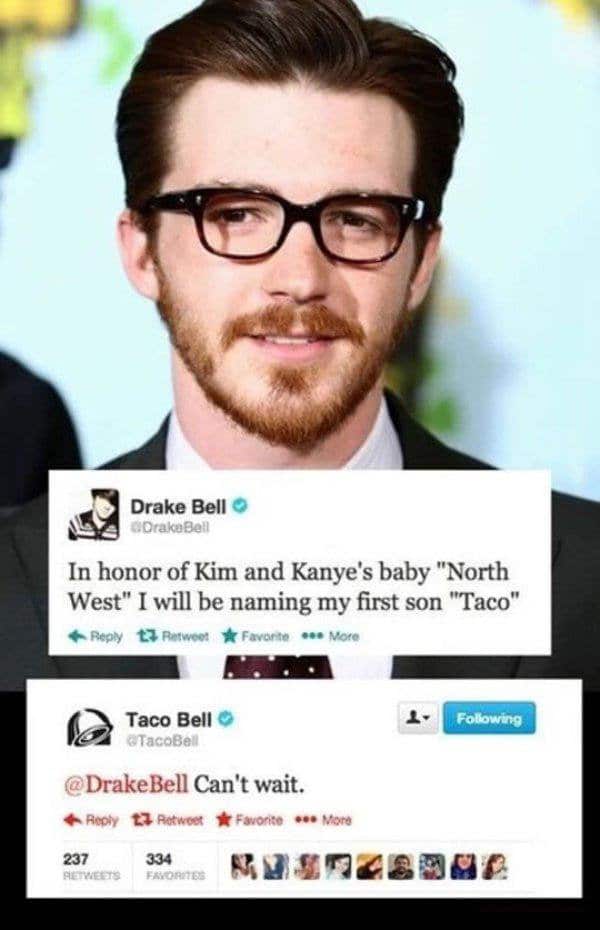 In honor of Kim and Kanye's baby "North West" I will be naming my son "Taco"
Taco Bell:
@DrakeBell Can't wait.
When your girl says she's going to the Safari Zone with friends but you don't trust her:
Damn girl are you from Tennessee? Because you have several outstanding warrants from the Tennessee court system. Step out of the vehicle.
Oh sure, make fun of Columbus. Like you've never gone to the grocery store for spices, gotten lost, then murdered several million people.
I have decided to leave my past behind me, so if I owe you money …. I'm sorry .. But I've moved on.

So if Humpty Dumpty is an egg, what species is the thing inside him? Another egg?
"No I mean do you have any questions about the job?"
Every truck is a food truck if you're a cannibal
was going 2 see Fifty Shades of Grey this weekend but then I realized that grass was growing at my local park.
Liam Neeson: I have a very particular set of skills
Me: Do they include needlepoint
Liam Neeson: Yes they do
Me: Neat
Neeson: I have an Etsy
Me: [in front of mirror] Bloody Mary Bloody Mary Bloody Mary
*Bloody Mary appears*
Me: I'm moving today and need your help
Bloody Mary: Shit
*Open birthday card*
*PRETENDS NOT TO NOTICE MONEY WHILE READING CARD*
This post was inspired by thechive!! Thanks…
More from Briff.me
If you like this post, you'd surely like Celebrities Last Tweets – Final one before death.
Don't miss Photo Leaks Not Needed at all For The Sexiest Kate Upton .
Eyes are the mirror of souls and the killer of million of hearts. Don't miss the Beautiful Eyes.
Here at Briff.me, knowing that our precious time together on Earth is way too short for a long feed, we bring you the best of the best, like this special briff about the Funny Tweets. If you want to get more posts like this, click like on the Briff.me Facebook.