Funny Wedding Quotes – For the Best Wedding Toast
Funny wedding quotes can help you get the best ever wedding toast. Whether you're the bride or groom, the best man or best girl, standing up and delivering the wedding speech is a challenge. So why not lighten up a little? Using words of wisdom by others is always a good idea. And if they were funny, it's even better. Congratulations!
1. The Secret of a Happy Marriage
Henry Youngman reveals the one true secret for a happy marriage. You can safely use these wise words in any wedding toast. Smiles are guaranteed, laughing out loud is probable if enough drinks went around.
The secret of a happy marriage remains a secret.
– Henry Youngman
2. Falling in Love and Gravitation
Isn't Albert Einstein the last person you would expect in a wedding quotes list? Well, his words about gravitation and love are like magic in a good wedding speech.
Gravitation is not responsible for people falling in love.
– Albert Einstein
3. Jerry Seinfeld as a Best Man
We can definitely trust Jerry Seinfeld for a good laugh, right? When it comes to a wedding toast, especially by a best man, this quote is simply perfect.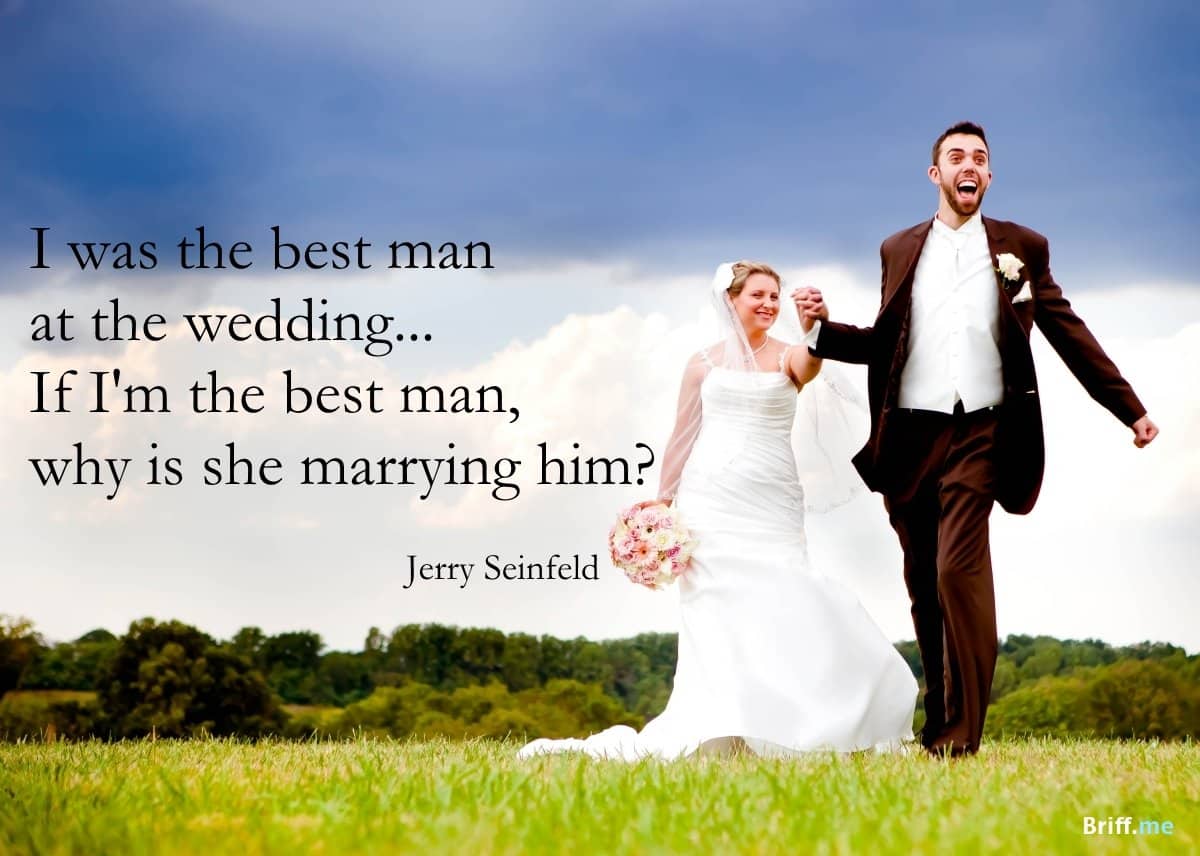 I was the best man at the wedding… If I'm the best man, why is she marrying him?
– Jerry Seinfeld
More Wedding Quotes
If you like these funny wedding quotes and you need some serious words about love, marriage and a ring, check out some more wedding quotes.
Briff Quotes
Our team of editors here at Briff.me, knows that our time together on Earth is waaay too short for a long feed. We're also true romantics, as you can see for yourself. And so, we work hard to bring you the best posts only, like this quotes briff with funny wedding quotes. To connect with us and get more posts like this, please click Like on the Briff.me Facebook page.
Liked this Briff? Click a button to share!