87. Malena Scordia (Malena)
The Character: Italian widow whose fidelity to her dead husband is shaken by poverty and the spectre of Nazi occupation.
The Actress: Director Giuseppe Tornatore, required to cast the most beautiful woman in town, went to the top – ex-model Monica Bellucci.
The Performance: Bellucci's serene grace and frankly astounding looks have rarely been better showcased.
86. Audrey 2 (Little Shop Of Horrors)
The Character: Named after the sweet object of florist Seymour's affection, but quite different from #1, Audrey 2 is a pychotic venus fly-trap with an insatiable appetite for human blood.
The Actor: Sorry, what? Yes, to distinguish her oddness, male actors have voiced Audrey 2. Charles B. Griffith in the original B-movie, Four Tops singer Levi Stubbs in the musical remake.
The Performance: Stubbs is the definitive reading, his distinctive baritone quivering with outrageous glee as he orders Seymour to "Feed Me!"
85. Gilda Mundson Farrell (Gilda)
The Character: Flame-haired nightclub singer whose sheer presence ignites scandal and suspicion amongst two men: one, her husband, the other an ex-lover.
The Actress: Rita Hayworth, wartime pin-up and wife of Orson Welles.
The Performance: Hayworth exudes a sensuality that scandalised 1940s censors despite only removing a single glove in her infamous striptease to 'Who Put The Blame on Mame?'
84. Matty Walker (Body Heat)
The Character: A film noir throwback in 80s modernist style, Matty twists an innocent man around her fingers using little more than raw sex.
The Actress: Kathleen Turner, in a film debut so startling it virtually steams up the screen.
The Performance: Sultry of look and husky of voice, Turner's indecently gorgeous, but it's the killer instinct that makes her one of the great femme fatales.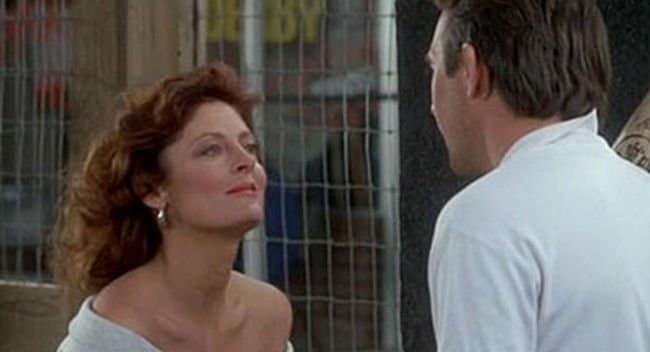 83. Annie Savoy (Bull Durham)
The Character: Baseball groupie in Bull Durham with an unusually philosophical viewpoint: by shagging one Durham Bulls teammate every season, she can help him to become a better player.
The Actress: Susan Sarandon, a cult favourite for years, entered her 40s with belated mainstream popularity as one of The Witches of Eastwick.
The Performance: A crass piece of sporting wish fulfilment on paper, Sarandon's wry wisdom (and her budding real-life relationship with co-star Tim Robbins) makes you believe her passion.
82. Séverine Serizy (Belle Du Jour)
The Character: Idle housewife whose boredom leads her to indulge her secret fantasies of submission by becoming a daytime prostitute, aka Belle Du Jour.
The Actress: Popular French starlet Catherine Deneuve was in the process of reinventing herself as a deeper, darker actress via Repulsion. Perfect timing for surreal satirist Luis Bunuel.
The Performance: It's all in the contrast between the transgressive imagery and Deneuve's porcelain beauty.
81. Gloria Swenson (Gloria)
The Character: Mobster's moll who does a runner to protect a young boy being targeted by her one-time associates.
The Actress: Arthouse darling Gena Rowlands got first sight of the script, written (and eventually directed) by hubby John Cassavetes, and didn't let it go.
The Performance: A change of pace for Rowlands, but one in which her immersive realism helped to transform genre thrills into something more moving.
80. Catherine Tramell (Basic Instinct)
The Character: Best-selling writer of crime novels like Basic Instinct whose inventive kills are being borrowed by a killer. Unless, of course, she's the killer.
The Actress: After muddling through the 1980s, Sharon Stone's break came as Arnie's wife in Paul Verhoeven's Total Recall. So when every other actress passed on playing Catherine, Verhoeven set up a rematch.
The Performance: Unavoidable. Stone knew she'd get noticed for this, and didn't hold back, although it's her slinky intelligence as much as the nudity which makes her so watchable.
79. Phyllis Dietrichson (Double Indemnity)
The Character: The archetypal femme fatale, who seduces a haplessly horny fool in order to get him to murder her husband for the Double Indemnity insurance money.
The Actress: Billy Wilder wanted to shock. What better choice than Barbara Stanwyck, famed as a comedienne and the highest paid actress in Hollywood?
The Performance: Stanwyck adapts her confident comedic timing into a sexual predator who gets what she wants: a new kind of role model.
78. Bess McNeill (Breaking The Waves)
The Character: Mentally disturbed Scotswoman in Breaking The Waves, whose life spirals into promiscuity and degradation after her oil rig worker husband is paralysed in an accident.
The Actress: The loss of Helena Bonham Carter – who bailed last-minute, aghast at the subject matter – became the gain of screen debutant Emily Watson, who had no such qualms.
The Performance: Watson's raw, fearless presence turns Lars Von Trier's potentially pretentious yarn into a visceral tragedy.